Kpop singer Jay Park resigns from his position as the CEO of the hip-hop labels AOMG and H1GHR Music, which he founded.
Jay Park announced on his social media account on December 31, "After a lot of thought and taking time to organize my emotions, I've decided to step down as the CEO of AOMG and H1GHR MUSIC."
Jay Park added, "I know this may be shocking to many people but I will remain as an advisor for both labels. We will continue to be a family and a crew."
Also, he expressed his gratitude to the staff and artists of the two companies.
He said, "I want to sincerely thank you guys for entrusting your futures at these two labels that I've founded. Im not perfect but I've always tried my best. I will continue to try my best."
AOMG is a hip-hop label led by Jay Park, a former member of the Kpop group 2PM.
Rappers such as Simon Dominic, Loco, Gray, Wonjae Woo, and Code Kunst, as well as various hip-hop and R&B musicians such as singer-songwriters, producers, and DJs are evenly distributed.
Kpop singer Jay Park created H1GHR Music in 2017 and has been working with various artists.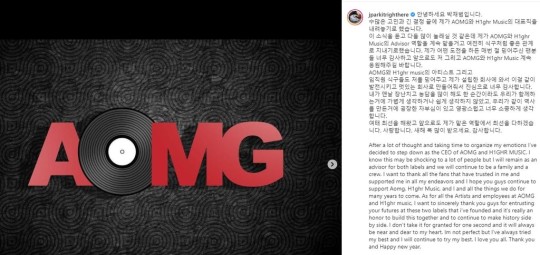 Read More About: THE BOYZ New Released His First Self-Composed Song '0329 From.24'
AOMG artist
,
best Kpop girl group
,
best kpop news site
,
best kpopstar
,
breaking news kpop
,
daily kpop news
,
Fandom
,
GRAY
,
Gray comeback
,
GRAY updates
,
Grayground
,
Korean celeb news
,
Korean singer
,
Korean singer songwriter
,
KPOP
,
Kpop album
,
Kpop beauty routine
,
Kpop boy group
,
kpop celebrity news
,
Kpop chart and news
,
Kpop colllaboration
,
KPOP comeback
,
Kpop current news
,
kpop daily news
,
Kpop fashion
,
Kpop girls group
,
KPOP GRAY
,
Kpop idols
,
Kpop issues
,
Kpop latest news
,
Kpop music chart
,
Kpop news
,
Kpop news articles
,
Kpop news sites
,
kpop news update
,
Kpop recent news
,
Kpop skin care routine
,
Kpop skincare routine
,
KPop trending news
,
KPOPNEWS
,
rapper GRAY
,
Seonghwa Lee
,
singer GRAY
,
South Korean singer songwriter
,
the best kpop girl group
,
the best kpop girl group of 2021
,
the best kpop group of 2021
,
the top kpop group
,
top kpop boy group
,
top kpop girl group