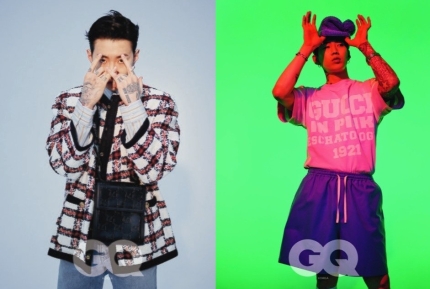 Jay Park (Jaebeom Park) was selected as the cover model of Gucci for the April issue. In this pictorial, he perfectly digested the Gucci collection.

In the interview, he shared his days as an artist and head of AOMG. Specifically, he said that the soju brand, which he talked about several times through the broadcast a few years ago, is finally close. It is expected to take place within this year.

As the head of AOMG, Jay Park recently experienced the launch of an independent label ('AREA' under Higher Music) of his artist Groovy Room. He said, "It is perfect for each other because it is for our development and growth. I am proud." When I stood alone as Jay Park eight years ago, the label AOMG was built because no one reached out. He expressed the affection he puts on the hip-hop scene. He added, "It seems like we are making it together rather than helping each other. It is a win-win when we can do well with each other."

In addition, in the scenes behind the interview of 'High School Rapper 4,' he appeared as a mentor. They envisioned an idol group, and his retirement as a celebrity was contained through Jay Park's unique, candid speech. 
Read More About: Lee Jin Celebrated An Elegant Birthday in New York