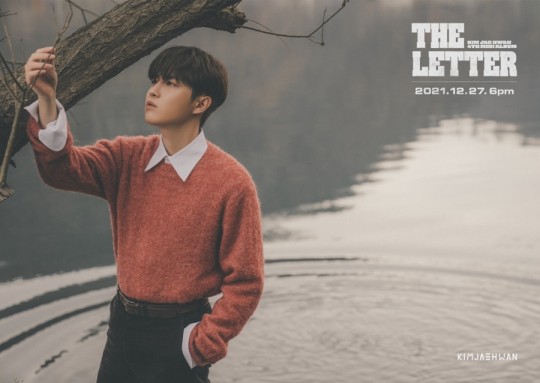 Kpop singer Jaehwan Kim gives a glimpse of 'THE LETTER' with a luxurious appeal. Jaehwan Kim released the first concept photo of his 4th mini-album, 'The Letter,' through his official social media on December 6, raising expectations for his comeback on December 27.
This photo will be the first version of the concept teaser with a total of eight types. Jaehwan will release concept teasers for his new album starting from this day. In the photo, Jaehwan Kim is wearing a knitted outfit and touching a tree branch while giving a serious gaze. His mature appeal catches the eyes of the fans.
Jaehwan will additionally unveil his first concept film at noon on the same day, providing fans with more colorful pleasure. So, interest is gathering in what kind of charms Jaehwan will show through a total of eight concept teasers.
'The Letter' is a new album that Jaehwan Kim will release after seven months. Ahead of his solo concert 'Welcome' on December 24, 25, and 26, he plans to deliver a special Christmas gift to his fans with 'The Letter.'
The year-end atmosphere and Jaehwan Kim's sheer expressive power are felt from the concept teaser, gaining attention. So, Jaehwan Kim will once again imprint the true value of a growing artist through 'The Letter.'
Kpop singer Jaehwan Kim will release his 4th mini-album, 'The Letter,' through various online music sites at 6 pm on December 27. Before this, on December 24, 25, and 26, he will host the offline concert, 'Welcome' for the first time in about two years, at the Jangchung Gymnasium in Seoul.
Read More About: MONSTA X Drops 'Rush Hour' Activities Behind-The-Scenes!
2021 kpop news
,
2021 kpop news updates
,
2021 news kpop
,
best kpop news site
,
breaking news kpop
,
daily kpop news
,
jaehwan kim
,
kim jaehwan
,
Korean celeb news
,
KPOP
,
Kpop 2021
,
Kpop artist
,
Kpop artists
,
kpop celebrity news
,
Kpop chart and news
,
kpop daily news
,
Kpop idols
,
Kpop latest news
,
Kpop news
,
Kpop news articles
,
kpop news update
,
Kpop recent news
,
Kpop shocking news
,
Kpop trend
,
Kpop trending
,
KPop trending news
,
Kpop trending now
,
KPOP2021
,
KPOPIDA
,
KPOPNEWS
,
Kpopnews 2021
,
shocking kpop news
,
shocking news on Kpop
,
shocking news updates
,
trending kpop
,
Trending Kpop news
,
trending kpop update
,
trending news
,
trending update kpop