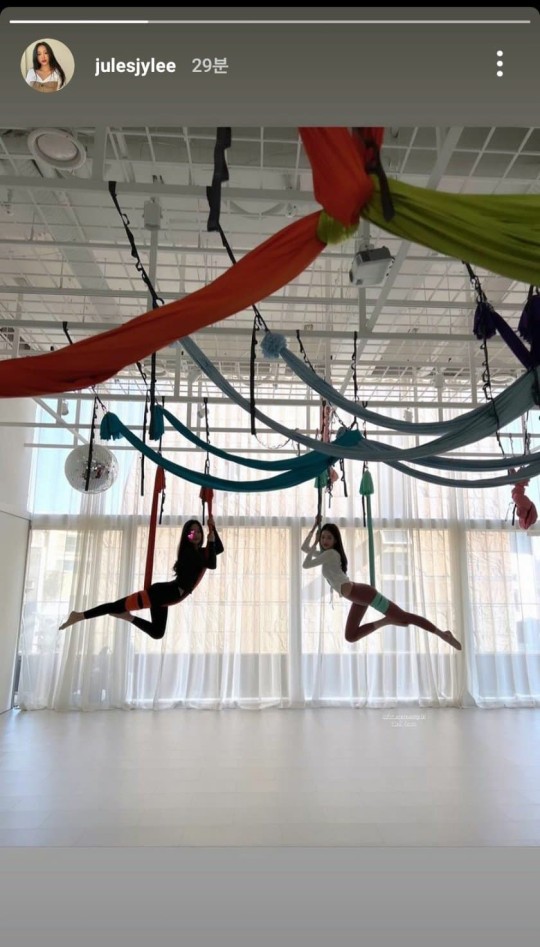 Rookie girl group IVE member Wonyoung Jang revealed why she had a superior body.
Wonyoung Jang posted a picture on her social media on January 18. It comes with the caption, "I love the time I fully focus on myself."
In the published photo, Wonyoung is doing flying yoga. The flexibility to perform even difficult movements is surprising. But, the superior body and proportions of her leggings fashion draw attention.
What draws attention above all else is Wonyoung's hidden friendship. On the same day, Jooyoung Lee, the eldest daughter of Haechang Lee, the third son of honorary chairman Joonyong Lee of Daelim Group, famous for the 'diamond spoon,' released a photo of her doing flying yoga with Wonyoung on her social media. The appearance of the two facing each other and taking the same action is a pictorial in itself.
Recently, rookie girl group IVE ended their debut song 'Eleven' promotions, setting an unprecedented record of winning nine trophies on music shows.
Read More About: Lovelyz Yein Jung To Make Her Solo Debut Along With The Release Of 'Plus n Minus' On Jan. 25
best kpop news site
,
breaking news kpop
,
daily kpop news
,
IVE rookie
,
ive rookie group
,
jang wonyoung
,
Korean celeb news
,
KPOP
,
Kpop artist
,
Kpop artists
,
kpop celebrity news
,
Kpop chart and news
,
Kpop current news
,
kpop daily news
,
kpop idol wonyoung jang
,
Kpop idols
,
Kpop latest news
,
Kpop news
,
Kpop news articles
,
Kpop news sites
,
kpop news update
,
Kpop recent news
,
KPOP ROOKIE IVE
,
kpop singer wonyoung jang
,
Kpop trend
,
Kpop trending
,
KPop trending news
,
Kpop trending now
,
kpop trending update
,
KPOPIDA
,
KPOPNEWS
,
ROOKIE IVE
,
Trending
,
trending kpop
,
Trending Kpop news
,
trending kpop update
,
trending news
,
trending update kpop
,
Wonwoo
,
Wonyoug Jang
,
Wonyoung Jang