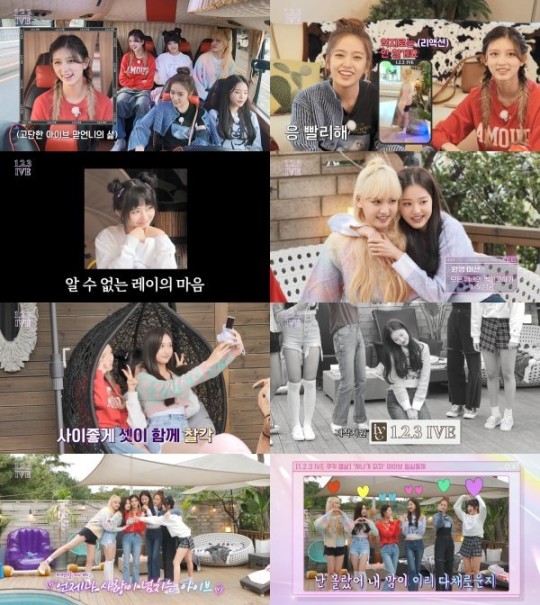 Rookie girl group IVE showed a refreshing and cheerful healing camp, boasting their stronger chemistry.
Six-member rookie girl group IVE showed off its stronger chemistry with its first camping.
On January 10, the fifth episode of its own reality content, '1, 2, 3 IVE', was released on the official YouTube channel of IVE (Yujin, Gaeul, Rei, Wonyoung, Liz, and Leeseo).
51 days before their debut, IVE went camping for healing. IVE, who is leaving for their first camping trip, shouted a fighting slogan. They boasted a refreshing charm by enjoying various games on the bus.
They arrived at the healing pension full of excitement. Upon arrival, IVE finished the game by inferring a password to open the pension door, obtained food through fantastic teamwork. Mainly, Wonyoung transformed into a 'meat master,' and Yujin transformed into a 'black bean noodles master' to complete the dish. Also, the members showed a cute appearance with an eating show.
IVE, who became a complete group when Leeseo, who went to school to take the midterm exam, joined, had a fun time together. But, they secretly carried out a special mission. Among the six members, Wonyoung and Rei expected a special gift as they succeeded. But, their devastation as they failed to become one and succeed in all missions, the camping motto, even made viewers laugh.
In response, IVE played a telepathy game to reflect on themselves. They failed to unite in a row with keywords such as 'Yujin,' 'Heart,' 'Cute,' and 'Rabbit,' but succeeded in the last word 'Penguin,' completing a stronger chemistry.
Recently, IVE completed its official activities for its debut album 'ELEVEN,' which is stirring up K-pop fandom worldwide with an unprecedented record run. It ranked first in initial sales among the groups that debuted in 2021. They show a synergy of six people with solid skills, musicality, and performance that perfectly match the modifier 'complete group.'
In addition, IVE has settled in the top 10 real-time charts of major domestic music sites such as Melon, Genie Music, and Bugs with the title song 'ELEVEN.'
Also, they have achieved brilliant results on seven music shows upon their debut.
IVE continues to communicate with global fans with its own reality show '1, 2, 3 IVE' and various contents.
Read More About: K-pop Singer LYN, 'It's been a while."
daily kpop news
,
IVE kpop
,
IVE KPOP rookir
,
ive rookie group
,
KPOP
,
Kpop artist
,
Kpop artists
,
kpop celebrity news
,
kpop daily news
,
Kpop idols
,
Kpop latest news
,
Kpop news
,
Kpop recent news
,
Kpop shocking news
,
Kpop trend
,
Kpop trending
,
KPop trending news
,
Kpop trending now
,
kpop trending update
,
kpop verivery
,
KPOP2021
,
KPOPIDA
,
KPOPNEWS
,
shocking kpop news
,
shocking news on Kpop
,
shocking news updates
,
Trending
,
trending 2021
,
trending kpop
,
Trending Kpop news
,
trending kpop update
,
trending news
,
trending update kpop