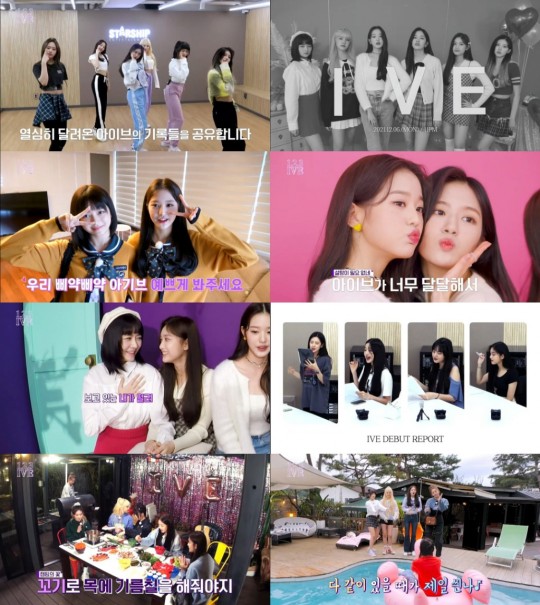 The rookie girl group IVE heralded a six-member, six-color charm. IVE posted the second teaser video of its own reality content, '1, 2, 3 IVE' on its official YouTube channel on December 5.
In the released video, IVE captured the process of six different members meeting and running nonstop toward their debut. With Yujin and Wonyoung at the center, IVE showed off their warm appearance. Fans will see the members caring for each other and loving each other. Then, members Gaeul, Rei, Liz, and Yiseo show off their loveliness.
Notably, global fans are already paying keen attention as the group shows the aspect of an artist working 'hard' from the recording of the debut single 'ELEVEN' to the choreography practice site. Also, fans will see the members' various appearances from their first trip to the moments of getting closer to each other.
In addition, expectations for IVE's honest debut process are also rising. Fans may be curious about Rei studying Korean, members' learning English, vocal practices, eating alone during practice, and members' snack time at the accommodation.
'1, 2, 3 IVE' is a reality content that contains the entire process of members' debut. It includes accommodation life, practices, and personal activities, which began at the same time as the formation of IVE.
IVE, who released it's first single 'ELEVEN' and continues its full-fledged activities, is proving fans' pouring upon their debut. They released the album 'ELEVEN' and the title track of the same name, along with the sidetrack 'Take It.'
The songs entered the real-time charts of major domestic music sites. Also, the number of music video views is taking an unusual step. It garnered more than 30 million views in four days after its release.
IVE is well-received as a 'new Kpop girl group that showed off its global potential' before its debut by Forbes. They plan to present a new direction for Kpop by showing a 'complete group' sample with its global presence.
Rookie group IVE will unveil '1, 2, 3 IVE' for the first time on their official YouTube channel at 11 pm on December 6. Then, they will meet fans every Monday.
Read More About: Gummy Impressed Busan Fans With 'Childish Adult' While Playing The Keyboard
2021 kpop news
,
2021 kpop news updates
,
2021 news kpop
,
best kpop news site
,
breaking news kpop
,
daily kpop news
,
JYP rookie girl group
,
Korean celeb news
,
KPOP
,
Kpop 2021
,
Kpop artist
,
Kpop artists
,
kpop celebrity news
,
Kpop chart and news
,
kpop daily news
,
Kpop idols
,
Kpop latest news
,
Kpop news
,
Kpop news articles
,
kpop news update
,
Kpop recent news
,
kpop rookie
,
Kpop trend
,
Kpop trending
,
KPop trending news
,
Kpop trending now
,
KPOP2021
,
KPOPIDA
,
KPOPNEWS
,
Kpopnews 2021
,
MYSTIC ROOKIES
,
rookie girl group
,
rookie girl group JYPn
,
rookie group bugaboo
,
Rookie group Ciipher
,
rookie group epex
,
rookie group Hi-L
,
rookie group Luminous
,
rookie group MIRAE
,
rookie group treasure
,
rookie ICHILLIN
,
rookie Interboys
,
rookie KINGDOM
,
rookie kpop group
,
rookie lightsum
,
ROOKIE OMEGA X
,
rookie Purple Kiss
,
rookie rocking doll
,
trending kpop
,
Trending Kpop news
,
trending kpop update
,
trending news