The 6-member rookie girl group IVE successfully completed their debut showcase. IVE held a showcase to celebrate the release and debut of their first single, 'ELEVEN,' on December 1 and met with global fans. 
On this day, under the hosting of Seulgi Park, IVE opened the debut showcase by greeting fans in various languages. ​​IVE said, "This is the long-awaited debut day. We're very excited and nervous, but we will show you a good side as much as we prepared hard. So, we ask for a lot of support," they said with a trembling feeling.
Next, IVE shared various stories about their debut album through the 'HAVE WHAT WE WANT' corner. IVE showed confidence in their performance by presenting the 'Heaven Dance' and 'Seven Dance,' the point choreography of the title song 'ELEVEN.'
Also, they revealed the concept photo and music video shooting behind-the-scenes.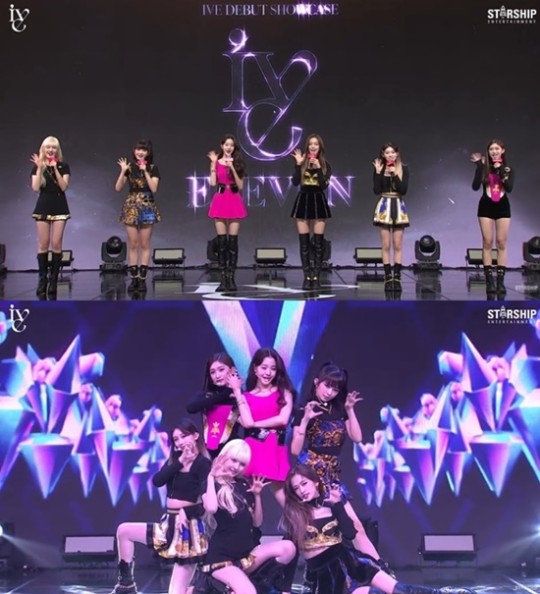 In the 'SHOW WHAT I HAVE' corner, the six members introduced themselves with each keyword. They had time to get closer to fans. IVE showed off various personal talents, including dancing, rapping, singing, and modeling, and even presented an endless charm.
Rookie girl group IVE drew enthusiastic responses through the title song 'ELEVEN' and the song 'Take It.'
The members said, "Thank you for your support. We will work hard to show you a great performance in the future," expressing their ambition for full-fledged activities.
'ELEVEN' is an album that means that the best members are made up of various combinations. Also, the title song 'ELEVEN' expresses the heart of a girl in love turning into a fantastic color, and IVE's six-color charm stands out.
Notably, upon the release of 'ELEVEN,' IVE ranked hashtags such as the group name 'IVE' and 'Congratulations on your debut' on Twitter real-time trends worldwide. So, it only proves the global interest and raising expectations for future influence amid successful debut signals.
Read More About: Mujin Lee x Heize Makes A Comeback With A Duet Song
2021 kpop news
,
2021 kpop news updates
,
2021 news kpop
,
best kpop news site
,
breaking news kpop
,
daily kpop news
,
Korean celeb news
,
KPOP
,
Kpop artist
,
Kpop artists
,
kpop celebrity news
,
Kpop chart and news
,
kpop daily news
,
Kpop idols
,
Kpop latest news
,
Kpop news
,
Kpop news articles
,
kpop news update
,
Kpop recent news
,
KPop treasure
,
Kpop trend
,
Kpop trending
,
KPop trending news
,
Kpop trending now
,
kpop trending update
,
KPOP2021
,
KPOPIDA
,
KPOPNEWS
,
Kpopnews 2021
,
Trending
,
trending 2021
,
trending kpop
,
Trending Kpop news
,
trending kpop update
,
trending news
,
trending update kpop