Kpop singer IU won 5 awards at this year's Melon Music Awards (MMA).
The 'Melon Music Awards 2021' held by Melon, the music platform of Kakao Entertainment, took place on December 4.
IU took the most prizes among the attendees by winning awards in five categories. It includes 'Artist of the Year,' 'Album of the Year,' 'Best Songwriter,' 'Best Solo Female,' and 'Top 10 artist.'
In March of this year, Kpop singer IU released her 5th full-length album 'LILAC,' which marked the end of her 20s. So, she made a hit with the title songs 'Lilac' and 'Coin' as well as the pre-released song 'Celebrity.'
As such, she won the 'Album of the Year' award.
IU said, "I heard that there is a high probability of winning this award, so I changed my clothes and waited. But, I'm excited that I really got it from you. I really listened to all the candidates' albums this year. Perhaps because it was a year when I was more hungry for music and performance than ever, I think it was a year when I consumed and listened to music as a listener."
"I thought I could be proud that I was really busy trying to do music without taking a break from the age of 20 to the age of 29. When a song I like comes out, commuting to and from school is less difficult for a week. So, I think I did a good job in the 10th year when I worked hard to play even one such song up close," she said.
Then, IU said, "I will receive this award with a grateful heart. It's an award that I really wanted. So, whether you're watching this video or reading it later on, I'm sure you'll be thankful for me. I'm grateful to them all. I'll try to keep in touch always. Next year, I will work hard in my musical life with a wonderful 30s and a somewhat fresh appearance."
After receiving the 'Artist of the Year' award, Kpop singer IU said, "I have received such a big award. Artist of the Year is an award with a lot of weight. Many artists worked hard and did their best this year. But, I am receiving this award alone. So, I feel a sense of gratitude toward the other artists. I will carry the weight of this award and channel it into working hard at making music next year. Artists, you all worked hard this year. Uaenas (fan club), I got five trophies. Are you proud? I'm glad that I can make your shoulders stand proud. Also, I hope that the day will soon come when we can enjoy this with all the Kpop fans. I love you."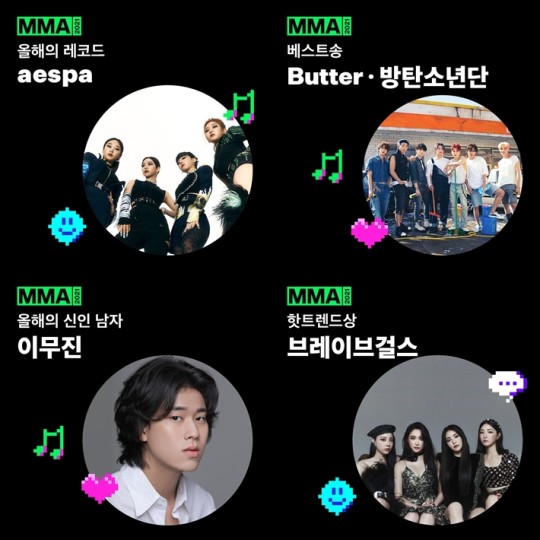 Then, AESPA, which debuted last year and celebrated its first anniversary this year, drew attention by winning four awards. They won 'New Artist of the Year (female),' Best Group (Female),' 'Top 10' artist, and the grand prize 'Record of the Year.'
'Record of the Year' is an award given to the artist who has achieved the most remarkable musical achievement. AESPA was widely loved this year for songs such as 'Next Level' and 'Savage.'
Then, the 'Best Song of the Year' went to BTS's 'Butter.'
In fact, 'Butter,' released worldwide in May this year, topped the Billboard main singles chart 'Hot 100' 10 times, boasting fantastic popularity. So, BTS won three awards, including 'Best Group (male) and 'Best Collaboration (with Coldplay).'
Here's the complete list of Melon Music Awards 2021 winners:
Artist of the Year: IU
Album of the Year: IU's 'Lilac'
Best Song of the Year: BTS 'Butter'
Record of the Year: AESPA
1THEK Original Contents: STAY
Global Rising Artist: ENHYPEN
Best Performance: The Boyz
Songwriter: IU
Best OST: Mujin Lee's 'Rain and You' for 'Hospital Playlist Season 2'
(Female) Best Group: AESPA
(Male) Best Group: BTS
Best Project Music: MSG Wannabe M.O.M
Music Video of the Year: Tomorrow x Together (TXT)
Best Collaboration: BTS & Coldplay's 'My Universe'
Best Music Style: Homies
(Female) Best Solo: IU
(Male) Best Solo: Youngwoong Lim
Best New Artist Award Female: AESPA
Best New Artist Male: Mujin Lee
Hot Trend Award: Brave Girls
Top 10 Award: IU, Youngwoong Lim, BTS, NCT Dream, Ash Island, Mujin Lee, AESPA, LilBoi, Heize, and AKMU
Read More About: Girls' Generation Seohyun Attracts Fans With Just Her Sexy Back!
actress IU
,
After We Ride
,
agust d
,
ASAP
,
best Kpop girl group
,
best kpop news site
,
best kpopstar
,
Brave girls
,
Brave Girls members
,
breaking news kpop
,
BT21
,
BTS
,
BTS Army
,
BTS BILLBOARD
,
bts butter
,
BTS fancam
,
BTS I'll Be Missing You
,
BTS J-Hope
,
bts jimin
,
bts Jungkook
,
BTS member
,
bts member Jimin
,
BTS member V
,
BTS Members
,
BTS News
,
BTS recent news
,
BTS routine
,
BTS solo songs
,
bts suga
,
BTS today
,
bts trending
,
BTS trending news
,
BTS UPDATES
,
BTS V
,
BTSTREND
,
Chi Mat Ba Ram
,
daily kpop news
,
Fandom
,
Filter
,
Hello Future
,
Hip-hop Idol JIN
,
Hot Sauce
,
IU
,
IU news
,
iu songs
,
iu tv
,
IU updates
,
iu works
,
J-hope
,
Jieun Lee
,
JIMIN
,
Jin
,
JIN news
,
JUNGKOOK
,
Korean celeb news
,
Korean singer
,
Korean singer songwriter
,
KPOP
,
Kpop 2021
,
Kpop album
,
Kpop artist
,
Kpop artists
,
Kpop beauty routine
,
Kpop boy group
,
Kpop Brave Girls
,
KPOP BTS
,
kpop celebrity news
,
Kpop chart and news
,
Kpop colllaboration
,
KPOP comeback
,
Kpop current news
,
kpop daily news
,
Kpop fashion
,
Kpop girls group
,
Kpop group NCT Dream
,
Kpop group STAYC
,
kpop idol JIN
,
Kpop idols
,
Kpop issues
,
Kpop IU
,
Kpop latest news
,
Kpop music chart
,
kpop NCT Dream. NCT Dream members
,
Kpop news
,
Kpop news articles
,
Kpop news sites
,
kpop news update
,
Kpop recent news
,
Kpop shocking news
,
Kpop skin care routine
,
Kpop skincare routine
,
kpop stayc
,
Kpop trend
,
Kpop trending
,
KPop trending news
,
Kpop trending now
,
Kpop_BTS
,
KPOP2021
,
KPOPIDA
,
KPOPNEWS
,
nct dream
,
permission to dance
,
RM
,
Rollin
,
Run BTS
,
shocking kpop news
,
shocking news on Kpop
,
shocking news updates
,
singer IU
,
Singer JIN
,
South Korean singer songwriter
,
Star To A Young Culture
,
StayC
,
STAYC debut
,
STAYC members
,
STAYC news
,
STAYDOM
,
SUGA
,
summer queen
,
TAEHYUNG KIM
,
the best kpop girl group
,
the best kpop girl group of 2021
,
the best kpop group of 2021
,
the top kpop group
,
top kpop boy group
,
top kpop girl group
,
V
,
We Ride
,
weverse magazine
,
Yuna