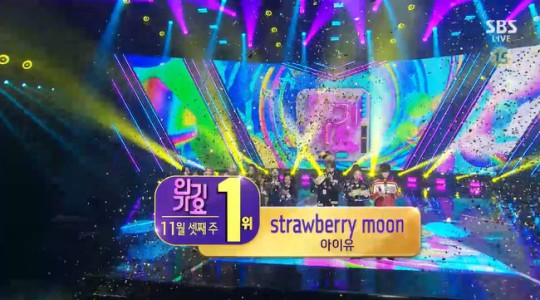 Kpop singer IU took first place on a music show. In the 1117th episode of SBS 'Inkigayo,' which aired on November 21, IU took 1st place with her new digital single 'strawberry moon.'
Though Kpop singer IU did not appear on the live broadcast that day, she took first place.
On this day's 'Inkigayo,' LIGHTSUM, DKB, BugAboo, Blitzers, Hyesun Jo, EPEX, JUST B, ICHILLIN, Billlie, ONEUS, TO1, Weki Meki, Somi Jeon, LABOUM, MONSTA X, TWICE, and Younha appeared.
Notably, the colorful comeback performance unfolded one after another. So, it gained the attention of music fans. Returning with an unchanging spirit, MONSTA X presented a performance of 'Rush Hour,' a straightforward song.
Kpop group Weki Meki showed off a fresh and lively charm on the performance of their new song, 'Siesta.'
It contains the period of youth growth in search of a new self.
Kpop singer Younha played the guitar and sang her new song 'Oort Cloud' to prove her live performance skills. Younha's sweet healing message was enough to arouse admiration from viewers.
The active female musicians who are in full swing also stood out. TWICE boasted the lovely charisma through the performance of 'SCIENTIST.'
Kpop singer Somi Jeon sang a woman who did not lose her girl crush charm even in a breakup situation through the 'XOXO' performance.
Kpop group LABOUM showed off their mature charm through the performance of 'Kiss Kiss,' like a flower petal.
Read More About: IU vs. TWICE vs. AESPA: 1st Place Clash On SBS 'Inkigayo'
actress IU
,
best Kpop girl group
,
best kpop news site
,
best kpopstar
,
breaking news kpop
,
crush
,
crush news
,
Crush updates
,
daily kpop news
,
Fandom
,
hip-hop singer Crush
,
Hyoseob Shin
,
IU
,
IU news
,
iu songs
,
iu tv
,
IU updates
,
iu works
,
Jieun Lee
,
Jooheon
,
Kiss Or Death
,
Korean celeb news
,
Korean singer
,
Korean singer songwriter
,
KPOP
,
Kpop album
,
Kpop beauty routine
,
Kpop boy group
,
kpop celebrity news
,
Kpop chart and news
,
Kpop colllaboration
,
KPOP comeback
,
Kpop current news
,
kpop daily news
,
Kpop fashion
,
Kpop girls group
,
Kpop idols
,
Kpop issues
,
Kpop IU
,
Kpop latest news
,
kpop monsta x
,
Kpop music chart
,
Kpop news
,
Kpop news articles
,
Kpop news sites
,
kpop news update
,
Kpop recent news
,
kpop singer crush
,
Kpop skin care routine
,
Kpop skincare routine
,
KPop trending news
,
KPOPNEWS
,
MONSTA X
,
MONSTA X member
,
MONSTA X members
,
monsta x news
,
MONSTA X updates
,
singer crush
,
singer IU
,
Sometimes
,
South Korean singer songwriter
,
Summer Taste
,
the best kpop girl group
,
the best kpop girl group of 2021
,
the best kpop group of 2021
,
the top kpop group
,
top kpop boy group
,
top kpop girl group