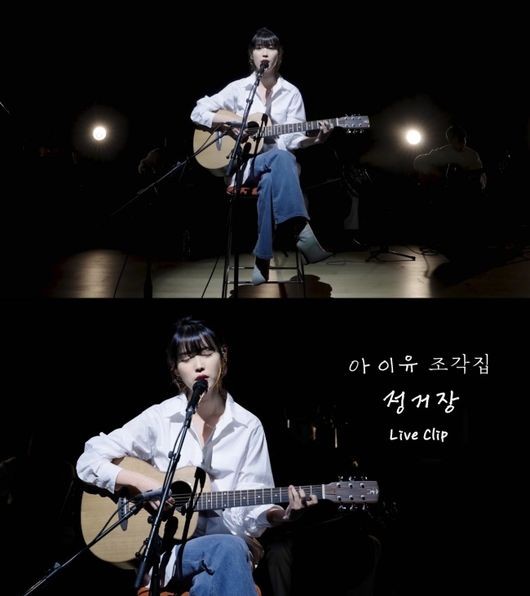 Kpop singer IU has pre-released the song 'Stop' from her year-end album, 'Pieces.'
On December 28, EDAM Entertainment gained attention by pre-releasing the live clip of 'Station,' the sidetrack of 'Pieces,' set for release on December 29, through its YouTube channel.
In the released video, IU appeared in the center of the dark stage with pin lights. She played the pre-release song 'Station' on the guitar herself. She is showing perfect harmony with a band set with a cello added. In addition, she showed off her calm and delicate vocals to the lyrical melody. So, it leaves a deep impression on the listeners.
The newly released 'Station' is a song that gives you a calm melody and IU's unique sentimental sensibility. It contains the feelings of missing someone. Notably, this song is known as one of IU's unreleased self-composed songs, further raising the expectations of fans who have been waiting for the official release of the song.
Earlier, IU is drawing attention for her artwork and special teaser release, which gives a glimpse into the atmosphere of 'Pieces' in advance. The Live Clip of 'Station,' set for release today, raised questions about what kind of music the album 'Pieces' will contain.
IU's 'Pieces' is the first album release after two months since the digital single 'Strawberry Moon' in October. IU, who has been running nonstop with several albums released this year, is planning to greet fans at the end of her 20s through 'Pieces,' which is drawing more attention than ever.
Kpop singer IU will release 'Pieces' on various online music sites at 6 pm today, December 29.
Read More About: ENHYPEN Unveils Concept Film For The 1st Repackage Album 'DIMENSION: ANSWER'
actress IU
,
best Kpop girl group
,
best kpop news site
,
best kpopstar
,
breaking news kpop
,
daily kpop news
,
Fandom
,
IU
,
IU news
,
iu songs
,
iu tv
,
IU updates
,
iu works
,
Jieun Lee
,
Korean celeb news
,
Korean singer
,
Korean singer songwriter
,
KPOP
,
Kpop album
,
Kpop beauty routine
,
Kpop boy group
,
kpop celebrity news
,
Kpop chart and news
,
Kpop colllaboration
,
KPOP comeback
,
Kpop current news
,
kpop daily news
,
Kpop fashion
,
Kpop girls group
,
Kpop idols
,
Kpop issues
,
Kpop IU
,
Kpop latest news
,
Kpop music chart
,
Kpop news
,
Kpop news articles
,
Kpop news sites
,
kpop news update
,
Kpop recent news
,
Kpop skin care routine
,
Kpop skincare routine
,
KPop trending news
,
KPOPNEWS
,
singer IU
,
South Korean singer songwriter
,
the best kpop girl group
,
the best kpop girl group of 2021
,
the best kpop group of 2021
,
the top kpop group
,
top kpop boy group
,
top kpop girl group