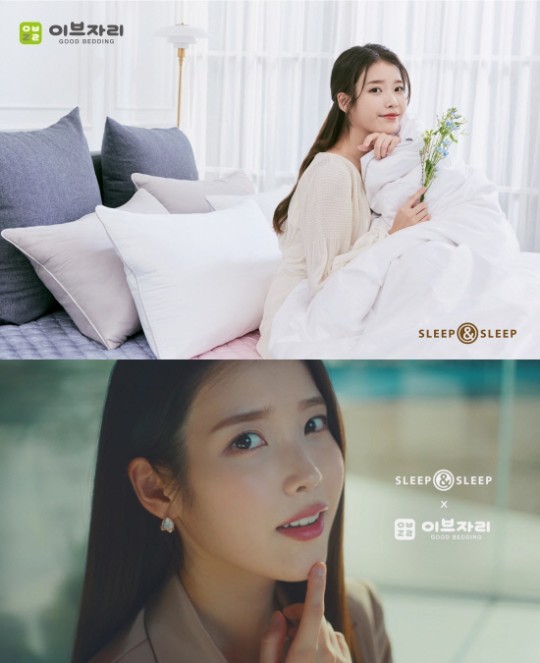 IU is the new brand model of the Sleep Care Brand 'Evezary.' IU will appear in the TV advertising campaigns of the brand.
The theme of the new advertising campaign of the Sleep Care Brand 'Evezary' is 'Sleep Fit.'
It contains the brand message that Sleep & Sleep's customized bedding provides the most comfortable sleep for customers.
Advertisements of IU have emerged. Ads are showing that tailored-fit beds will be depending on the customer's body type and sleeping habits. It adds visual fun and increases immersion by creating a dreamy and mysterious atmosphere. In addition, they tactfully delivered the advertising through the line of 'repair fit.'
In commemoration of the start of the campaign, 'Evezary' holds an SNS quiz event. Evezary will give away tablet iPad Air to participants through a raffle. Participation is possible through Sleep & Sleep's official Instagram.
Hyunju, 'Evezary's' publicity team leader, said, "We want the new ads to deliver easier and more familiar functional properties and brand image of the Sleep & Sleep, in synergy with the young and trendy image of IU. In addition to the various consumer groups, we aimed to create content with IU and enter into a large-scale brand campaign."
In addition, Sleep & Sleep's will be releasing the new advertising campaign through all online and offline channels. It will air on channels such as over-the-air channels, cable broadcasting, YouTube, and social network service (SNS) from next month.
Read More About: Berry Good Johyun Showed Off Her Elegant Visual
2021 kpop news
,
2021 kpop updates
,
IU
,
iu 2021
,
IU Endorsements
,
iu kpop
,
iu tv
,
iu works
,
IU_Kpop
,
KPOP
,
Kpop 2021
,
Kpop artist
,
Kpop artists
,
Kpop idols
,
Kpop IU
,
Kpop news
,
Kpop trend
,
Kpop trending
,
KPop trending news
,
Kpop trending now
,
kpop trending update
,
KPOP2021
,
Kpopall
,
KPOPIDA
,
KPOPNEWS
,
Trending
,
trending 2021
,
trending kpop
,
Trending Kpop news
,
trending kpop update
,
trending news
,
trending update kpop