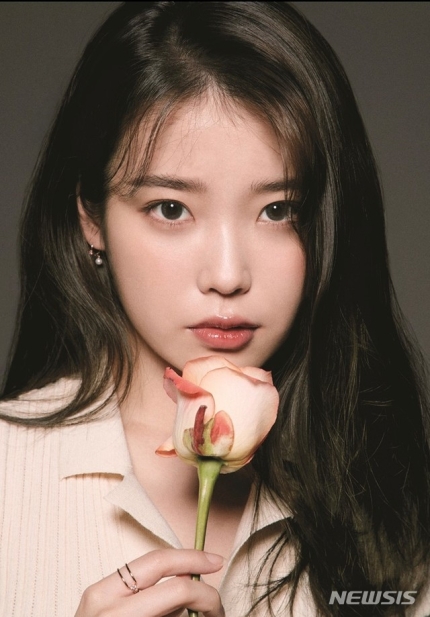 IU celebrated the official release of her 5th album, deciding to donate the proceeds of the sales.
On March 25th, IU posted on EDAM Entertainment's official Instagram account. She said, "I want to share the warmth of spring with the people who welcomed my 5th regular release. Also, to the people who quietly wait for my album to come out and Uaena (fan club)."
Along with that, IU posted a sponsorship certificate with a total donation of 100 million won.
She added, "I hope that a warm spring will come to everyone's hearts, both to the people who receive our heart and to my love Uaena."
According to the public deed, IU sponsored and delivered a donation of 50 million won from her name and the name of her fan club 'Uaena.' This is to support emergency youth living in single-parent families and independent activities for the deaf.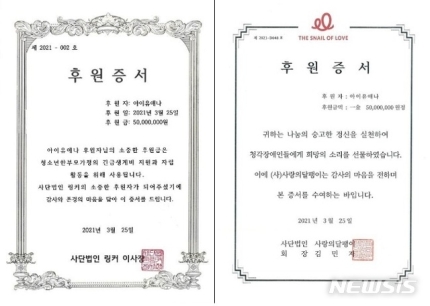 UI had released her 5th album 'LILAC' on the 25th of March. It is the first time she releases the album since her previous 4th album, 'Palette,' released 4 years ago. In addition, her song, 'Celebrity,' which was unveiled in January, swept various music charts. See teaser video here.
Meanwhile, IU starred in MBC Radio's "Kim Eana's Starry Night,' aired on April 1st.
Lyricist Kim and IU will be the DJ's and will play IU's hit songs such as ' You and Me,' and 'Good Day.'
5 songs will play while IU and lyricist Kim shared a story about the lyrics and the deep story about their life and daily routine.
'Kim Eana's Starry Night' airs every day from 10:50 pm to 12 pm on standard FM (Seoul/Gyeonggi 95.9 MHz) and smart radio, 'Mini.'
Related Content: Jae Hyung Jung Appeared As A Surprise On IU's 'LILAC' MV