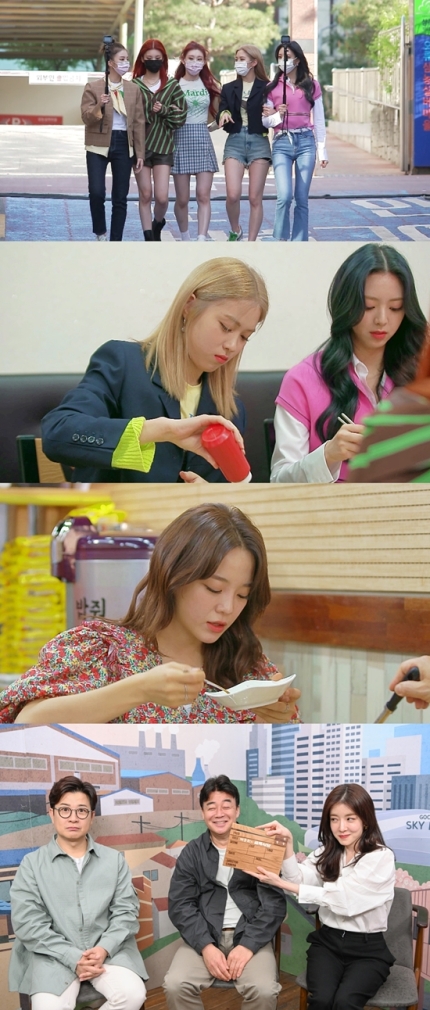 The group ITZY will appear on 'Baek Jong-won's Alley Restaurant.'
SBS 'Baek Jong-won's Alley Restaurant,' will air on the 5th. It will feature the 32nd Alley, Oryu-dong Alley in Guro-gu. It is a healing restaurant that captured the tastes of middle-aged women. Many regular customers loved the restaurant. But, there were still concerns about whether it could capture the tastes of the younger generation.
To solve the boss's problem, 'ITZY,' a representative girl group of the younger generation, visited Oryu-dong. Particularly, Jongwon Baek expressed his gratitude, saying, "This is my first meeting with ITZY. But, ITZY expressed their regret. They said, "Today is our second meeting with Jongwon Baek." Because of that, Jongwon Baek felt greatly sorry for ITZY that he even sweated.
The group is served with 'Potato Dumpling Soup' as the sample menu. Then, ITZY said, "We only heard this menu on TV."
The members said that this menu is unfamiliar to young people. The viewers will see what kind of evaluation that ITZY members will give as they taste the menu.
Later on, an unexpected situation occurred in the restaurant,' which seemed to have no more problems. Some of the production crews reported that "The menu's taste has changed."
The hosts tasted the menu for verification as the menu was famous for its delicious taste.
After a while, the 'Old Whole Chicken House,' which received the mission to find chicken gizzards with garlic last week, came up to introduced two types of garlic chicken gizzards after a week of research. They created distinctive garlic chicken gizzards and fried chicken skins. But, the taste continued to change despite cooking according to the recipe.
Jongwon Baek, who tasted the fried garlic chicken gizzards, headed to the store with a darkened expression.
After that, Jongwon Baek hurriedly started improving his stew, which Sejeong Kim evaluated as she first visited 'Baek Jong-won's Alley Restaurant' before. Sejeong Kim, who tasted the stew, said, "The taste has become much thicker, unlike the previous one that I tasted."
After Jongwon Baek and Sejeong Kim left, the boss said, "I'm working hard with the thought of being the last. But, I feel nervous."
On the 5th, 'Baek Jong-won's Alley Restaurant,' will unfold the story of 'Oryu-dong Alley in Guro-gu,' which will air at 10:30 pm along with the girl group ITZY.
Read More About:
ITZY Showed Their Lovely Charm On JTBC 'Men On A Mission'
ITZY Ryujin X Lia Appeared On 'DoReMi Market (Amazing Saturday)'
2021 kpop news
,
2021 kpop updates
,
Baek Jong Won's Alley Restaurant
,
ITZY
,
ITZY KPOP
,
itzy news
,
JYP ITZY
,
KPOP
,
Kpop 2021
,
Kpop artist
,
Kpop idols
,
kpop itzy
,
Kpop news
,
Kpop trend
,
Kpop trending
,
KPop trending news
,
Kpop trending now
,
kpop trending update
,
KPOP_ITZY
,
KPOP2021
,
KPOPIDA
,
KPOPNEWS
,
Kpopstars
,
Trending
,
trending 2021
,
trending kpop
,
Trending Kpop news
,
trending kpop update
,
trending news
,
trending update kpop
,
trending updte