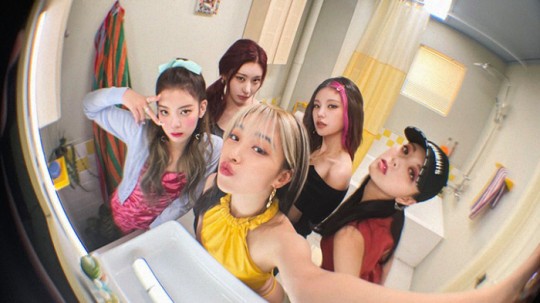 Kpop group ITZY released the first music video teaser for 'SWIPE,' the b-side song of the 1st full-length album, 'CRAZY IN LOVE.'
The music video teaser for 'SWIPE' of the new album posted on ITZY's official social media channel at midnight on September 21st is getting a hot response from Kpop fans in Korea and abroad.
This video was filmed by ITZY members, exuding a free-spirited teen mood. They showed off their lively charms by posing or dancing in trendy street clothes. Notably, the screen ratio optimized for smartphones and hand gestures swiping the screen to the side perfectly sniped the taste of Generation Z, which has a relaxed sensibility.
'SWIPE' is a hip-hop genre song that expresses the feeling of lightly ignoring the other person who is becoming more and more interfering and obsessive in a small cellphone with the word 'SWIPE.' 
Also, it features 808 drum beats, heavy bass, and a melodic rap flowing over a retro clarinet. The music video for 'SWIPE,' which shows ITZY's different side, will be out on September 27th.
ITZY quenches the thirst of fans who have been eagerly waiting through a new album boasting the highest level of perfection. They illuminate the presence of the 'K-pop 4th generation representative girl group.'
In fact, the title song 'LOCO' expresses huge love for the first time with the group's unique energy. This is their third meeting with the hit songwriter team GALACTIKA. They proved their fantastic chemistry with their debut song 'DALLA DALLA' in 2019 and 'WANNABE' in 2020. So, this song will surely be a global masterpiece that will represent 2021.
ITZY released a greeting video on their official social media channel to celebrate Chuseok (Autumn Eve) and greeted fans warmly. The members said, "Happy Chuseok is back in 2021. They said that if you make a wish on the big full moon, it will come true. So, we hope all the fans have a healthy and happy holiday. Also, we are about to release our first full-length album. We are working hard to present the best performance. So, please wait a little bit."
Then, the members showed the signature part of the new song 'LOCO' and entertained the viewers.
ITZY is raising the satisfaction of Generation Z by preparing various comeback promotions. Social media like Instagram and Facebook released the 'CRAZY IN LOVE' sticker using AR technology to express and enjoy free-spirited emotions.
Meanwhile, Kpop group ITZY will release their first full-length album, 'CRAZY IN LOVE' simultaneously worldwide on September 24 at 1:00 PM (EST), and make a splendid comeback. At 12 pm, an hour before the release, 'ITZY #OUTNOW COMEBACK SHOW' will take place on Naver NOW. They will perform their new song 'LOCO' for the first time.
Read More About: STAYC Celebrates Their First Chuseok With The Fans
2021 kpop news
,
2021 kpop news updates
,
2021 kpop updates
,
2021 news kpop
,
best kpop news site
,
daily kpop news
,
ITZY
,
ITZY Chaeryeong
,
ITZY KPOP
,
ITZY LIA
,
ITZY MAFIA In The Morning
,
itzy new album
,
itzy news
,
ITZY_CSI
,
ITZY_Guess Who
,
ITZY_LIA
,
ITZY_RYUJIN
,
itzy_yeji
,
itzy-Lia
,
JYP ITZY
,
Korean celeb news
,
KPOP
,
Kpop 2021
,
Kpop artist
,
Kpop artists
,
kpop celebrity news
,
kpop daily news
,
Kpop idols
,
kpop itzy
,
Kpop latest news
,
Kpop news
,
Kpop recent news
,
Kpop trend
,
Kpop trending
,
KPop trending news
,
Kpop trending now
,
kpop trending update
,
KPOP_ITZY
,
KPOP2021
,
Kpopall
,
KPOPIDA
,
KPOPNEWS
,
Kpopnews 2021
,
Kpopnews2021
,
latest kpop news
,
Lia_ITZY
,
recent kpop news
,
Trending
,
trending 2021
,
trending kpop
,
Trending Kpop news
,
trending kpop update
,
trending news
,
trending update kpop
,
YEJI ITZY