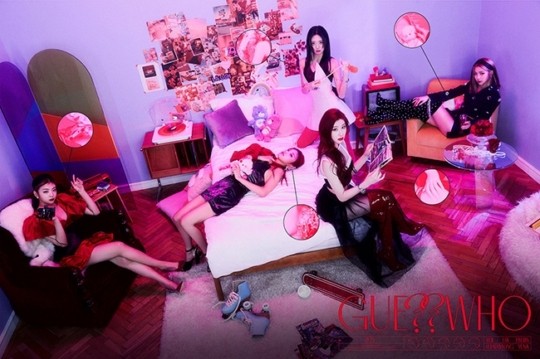 ITZY exceeded 260,000 copies in pre-order with their new album 'GUESS WHO' and broke its own record.
ITZY's new mini-album, 'GUESS WHO,' will simultaneously be released worldwide at 1 pm on the 30th. It has exceeded 260,000 pre-orders as of the afternoon of the 28th. Following the 200,000 pre-order copies with their previous work 'Not Shy,' the team achieved the best record. It only reveals their momentum as the 'K-Pop Front Group.'
Domestic and foreign interest in various teaser contents, as well as record performance, is explosive. The spoiler video of the new album 'GUESS WHO,' released on the 26th, achieved 2 million views on YouTube. This record is just within two days after its release. So, it thrilled the Global K-pop fans with the alum of the past, created by a group of world-renowned writers. Also, the title song 'MAFIA In The Morning' three music video teasers surpassed 4.22 million YouTube views as of 7 am on the 29th. It adds fire to the comeback fever of ITZY.
Particularly, the third teaser, which they released on the 29th, contained a part of the choreography of the new song. It attracted the attention of the music fans. ITZY transformed with a more intense aura as 5 mafias. In the teaser, they show off as if they are the 'K-pop representative performer' to their heart's content. They wore an all-black look and captured viewers' attention with gestures that resembled a mafia and pistol. They raised their expectations to the highest by providing unprecedented movement changes, powerful energy, and addictive sound.
ITZY proved that they are a qualifier of 'Strongest Performance' by unfolding an unrivaled performance at every comeback. The members are determined to unfold a performance with a diamond level of strength through this new song.
'Mafia In the morning' is a new song in which famous domestic and foreign writers participated. It includes LYRE, earattack, KASS, Haesol Lee, and Danke. Jinyoung Park, JYP Entertainment's representative producer, led the album production and worked together with the famous writers. 'MAFIA In The Morning' adds to the people's curiosity by showing uniqueness and conceiving the setting in the mafia game. It shows the faces of an inevitable fate. ITZY completed the concept by vividly bringing out the special personality of 5 members.
ITZY will simultaneously release the new album 'GUESS WHO' and the title song at 1 pm on April 30. This will the group's comeback performance. Before this, they held an online fan showcase through the official YouTube channel with their new song 'MAFIA In The Morning.'
In fact, they released the first performance video of 'MAFIA In The Morning' on the same evening. ITZY appeared on KBS2's 'Music Bank' and met fans with their comeback performance.
Read More About: ITZY Lia, What Does She Really Look Like On 'GUESS WHO?'
2021 kpop news
,
2021 kpop updates
,
Allkpop
,
ITZY
,
itzy new album
,
itzy news
,
ITZY_Guess Who
,
KPOP
,
Kpop 2021
,
Kpop artist
,
Kpop artists
,
Kpop idols
,
kpop itzy
,
Kpop news
,
Kpop trend
,
Kpop trending
,
KPop trending news
,
Kpop trending now
,
kpop trending update
,
KPOP_ITZY
,
KPOP2021
,
Kpopall
,
KPOPIDA
,
KPOPNEWS
,
Kpopstars
,
Trending
,
trending 2021
,
trending kpop
,
Trending Kpop news
,
trending kpop update
,
trending news
,
trending update kpop