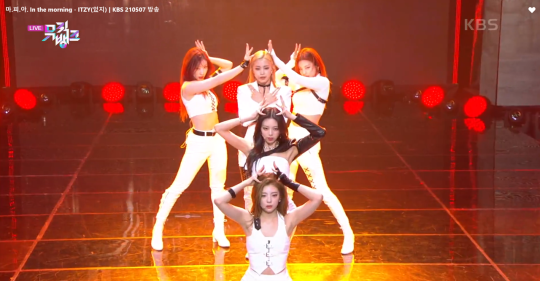 ITZY, the 4th generation representative girl group, showed their unique presence on stage.
ITZY, which released its new mini-album, 'GUESS WHO' on the 30th of April, showed off a performance armed with overwhelming charisma. It gave thrilling shivers to those who watched by adding dynamic moves and powerful energy.
The title song, "Mafia In the Morning," is a song that adds curiosity and uniqueness, just like in the mafia game. It contains a confident message of approaching and stealing the hearts of loved ones, with ITZY members covering their faces along with addictive sounds.
Another group, BEAST (also known as Highlight), announced their comeback with the title track of their third mini-album, "The Blowing," and the track "Disconnected."
After returning on a three-year and seven-month hiatus, BEAST has achieved the value of the name "Highlight." They showed a deeper sensibility and excellent performance this time.
In an interview in the waiting room ahead of their comeback performance, Gikwang Lee said, "I'm going to participate in 'Bringing.' It's a great song to listen to at this point."
Then, Dongwoon Son blew the paper he had prepared and gave laughter and pleasant energy.
The title song 'The Blowing' conveys a message of hope that it is not the end but a new beginning. It is like how the spring comes when the winter passes. Group member Gikwang Lee wrote the lyrics and participated in the composition.
In the first week of May, Brave Girls' "Rollin" and ENHYPEN's "Drunk-Dazed" were nominated for No. 1 on the K-chart. As a result of adding up various scores, ENHYPEN's "Drunk-Dazed" topped the list and achieved their long-awaited No. 1 spot.
ENHYPEN has been steadily gaining popularity since the release of their new album "BORDER: CARNIVAL" on the 26th of April. ENHYPHEN, who won first place, said, "Thank you, Engene (fan club). We won first place in Music Bank. Thank you, and we love you. Thank you to all the seniors and parents of the agency. We are grateful to the fans and the staff."
ENHYPEN's No. 1 song "Drunk-Dazed" is a Pop Rock genre song with a locking feeling. The lyrics contain ENHYPEN's honest feelings. It conveys the group's unfamiliar feeling about what is going on for the first time since their debut.
From the beginning to the ending, ENHYPEN's nonstop stage composition caught the eyes and ears of viewers. The members' sharp dance, undisturbed live performance, and genuine facial expressions were in sync. So, they gave a beautiful and ecstatic stage performance.
In addition, 'Music Bank' broadcast on this day features different kpop groups and idols. It includes ITZY, 3YE, AB6IX, BAE173, ENHYPEN, ITZY, P1Harmony, STAYC, Norazo, MckDaddy and YELO, BIBI, Ivan, ONF, Checkmate, Classmate, BEAST (Highlight), and HOT ISSUE. These groups appeared on stage with splendid performances.
KBS 2TV Music Bank airs every Friday at 5 p.m. In fact, it also airs in 114 countries worldwide through the KBS World Channel.
Read More About: ITZY, "We Want A 10 Million Won Bonus From JYP"
BEAST
,
BEAST New album
,
Beast_The Blowing
,
Brave girls
,
Brave_girls_Rollin
,
ENHYPEN
,
ENHYPEN News
,
enhypen_drunk-dazed
,
ITZY
,
itzy news
,
ITZY_Guess Who
,
KPOP
,
Kpop 2021
,
Kpop artist
,
Kpop artists
,
kpop beast
,
Kpop Bravegirls
,
kpop Enhypen
,
Kpop idols
,
kpop itzy
,
Kpop news
,
Kpop trending
,
KPop trending news
,
Kpop trending now
,
KPOP_ITZY
,
KPOP2021
,
Kpopall
,
KPOPIDA
,
KPOPNEWS
,
Kpopstars
,
music bank
,
trending kpop
,
Trending Kpop news
,
trending kpop update