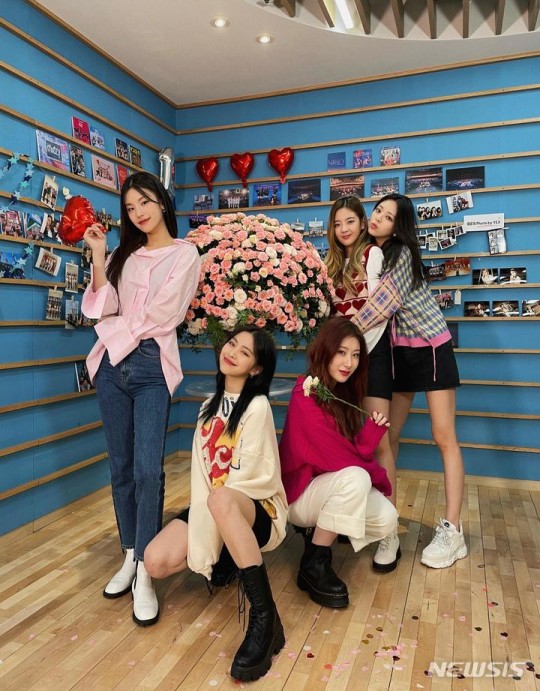 The Kpop group ITZY held a live concert to celebrate the 1000th day of their debut.
According to JYP Entertainment, on November 9, ITZY conducted an online live broadcast on their official YouTube channel on November 7 to celebrate their 1000th debut day anniversary.
ITZY, which debuted on February 12, 2019, marked the 1,000th day of its debut on the day of the live broadcast.
ITZY said, "It's already been 1000 days since our debut. We prepared 1,000 roses for MIDZY, who have been with us for 1,000 days. Thank you for always being by our side," they said, expressing their gratitude to the fans. Also, they celebrated their anniversary by exchanging congratulatory cakes, flowers, and words of blessing.
Kpop group ITZY filled their online broadcast with sections where the members and fans reminisce about their time from their debut day to now and once again confirm their feelings for each other. They looked back on their debut showcase, first music show, first mini fan meeting, and so on.
ITZY said, "We held a commemorative live to mark the 1,000th day of our debut, and it was really fun to travel down the memory lane. We sincerely thank you for being with us for 1,000 days. We have more days to spend together in the future than we have so far. So, we hope we can continue to make good memories together. Let's be healthy and happy. I love you," they added.
Meanwhile, Kpop group ITZY starts the pre-sale of the 2022 season's greetings 'Best Friends Forever.'
Read More About: Ghost9 Will Make A Comeback With A New Album To Release On November 25
best Kpop girl group
,
best kpop news site
,
best kpopstar
,
breaking news kpop
,
Chaeryeong
,
Codename: Secret ITZY 2
,
daily kpop news
,
Fandom
,
Guess who
,
Hip-hop Idol JIN
,
It'z Different
,
ITZY
,
ITZY members
,
itzy news
,
ITZY updates
,
Jin
,
JIN news
,
Korean celeb news
,
Korean singer
,
Korean singer songwriter
,
KPOP
,
Kpop album
,
Kpop beauty routine
,
Kpop boy group
,
kpop celebrity news
,
Kpop chart and news
,
Kpop colllaboration
,
KPOP comeback
,
Kpop current news
,
kpop daily news
,
Kpop fashion
,
Kpop girl group ITZY
,
Kpop girls group
,
Kpop group ITZY
,
kpop idol JIN
,
Kpop idols
,
Kpop issues
,
kpop itzy
,
Kpop latest news
,
Kpop music chart
,
Kpop news
,
Kpop news articles
,
Kpop news sites
,
kpop news update
,
Kpop recent news
,
Kpop skin care routine
,
Kpop skincare routine
,
KPop trending news
,
KPOPNEWS
,
Lia
,
mafia in the morning
,
Ryujin
,
Singer JIN
,
South Korean singer songwriter
,
the best kpop girl group
,
the best kpop girl group of 2021
,
the best kpop group of 2021
,
the top kpop group
,
top kpop boy group
,
top kpop girl group
,
Yeji
,
Yuna