SBS show 'Inkigayo' featured WOODZ sensual charm and announced Blackpink Rose number one spot.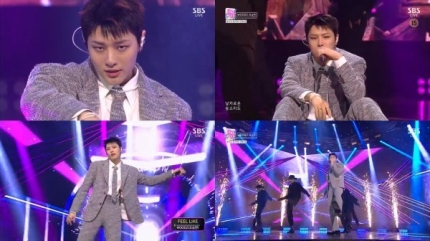 Initially, WOODZ showed off his sensual charm.
On the 28th, he appeared on SBS 'Inkigayo.'
He unfolded the stage with his title song 'FEEL LIKE' from his first single album 'SET.'
On that day, WOODZ and the dancers decorated the stage with their suit styling, expressing a sensual charm. His performance throughout the stage showed his dominating power, which attracted the attention of viewers.
Particularly, the unique musical theme of WOODZ unfolded on the stage of 'FEEL LIKE, and continuously drawing attention. Even in stable live performances, he showed off his own charm and presented a complete stage presence.
'FEEL LIKE,' which he directly participated in writing and composing, expresses the relationship's ups and downs. Its chic bass line, guitar riffs, unfolding inadvertently and sexy on top of it, add up to his power. Besides, its simple yet detailed drum, made up of various sounds, and the track's sound completes his skills and capabilities.
Meanwhile, WOODZ is continuing its 'FEEL LIKE' activity through various music broadcasts and contents.
On the other hand, on that same day, 'Inkigayo' announced that Blackpink's Rose reached the top of list.
On the 28th, SBS 'Inkigayo', selected Brave Girls 'Rolin' and Blackpink's Rose 'On the Ground' as candidates for the first place.
As a result, Blackpink Rosé beat the Brave Girls and placed first on the ranking. Rosé said, "It's my first solo debut, and I'm grateful for the overwhelming rewards. I'll do my best to show you a better look in the future. Thank you so much, and I love you, Blinks."
Rose released 'On The Ground' on the 12th and has gained popularity immediately after its release. It ranked first on iTunes Top Song Chart in 51 countries. Also, it was ranked 43rd on the Official Singles Chart Top 100 in the UK, making her the first female K-pop solo artist to achieve such. This confirms Rosé's global influence once again.
Read More About: Brave Girls Showed Off Their Fresh and Youthful Charm
2021 kpop news
,
2021 kpop news updates
,
2021 kpop updates
,
2021 updates on kpop
,
BLACK PINK
,
Blackpink
,
Blackpink Rosé
,
Blackpink_Rosé
,
Blackpink's Rosé
,
BlackpinkRosé
,
INKIGAYO
,
Kpop 2021
,
Kpop artist
,
Kpop artists
,
Kpop idols
,
Kpop news
,
Kpop trending
,
KPop trending news
,
KPOP2021
,
Kpopall
,
KPOPIDA
,
KPOPNEWS
,
Kpopnews 2021
,
Kpopnews2021
,
Woodz
,
woodz new song
,
Woodz_Feel like
,
woodz_set