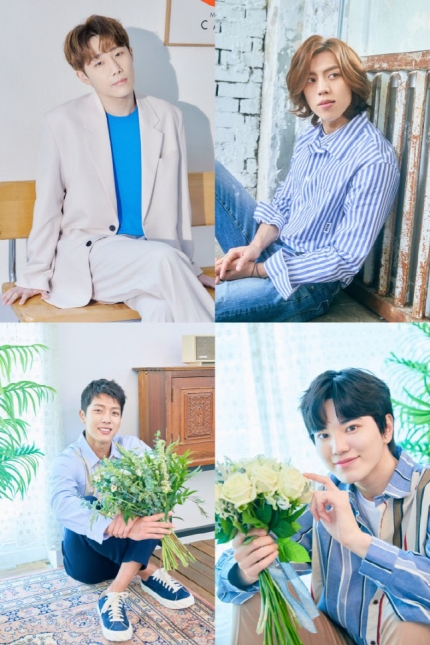 INFINITE will be spending a special time with fans to celebrate their 11th debut anniversary.
INFINITE members Sungjung, Sungyeol, Sungkyu, and Dongwoo, will celebrate their 11th debut anniversary through the official Naver V LIVE channel. It will take place on June 9th. They will spend time communicating with fans.
INFINITE will look back on the memories they had with their fans for the past 11 years. So, it will surely gather explosive responses from fans. The members prepared special gifts for their fans who have trusted and supported them for a long time, which raises curiosity.
Particularly, this online live is eye-catching as it is the first INFINITE group broadcast by all participating members after their military service. Expectations are high on what kind of chemistry the members will show. This will be their first official appearance in a long time under the name of INFINITE. Fans are curious how their 11-year friendship will shine.
INFINITE's 11th anniversary live will air on the official Naver V LIVE channel at 6 pm on June 9th. This excludes members serving in the military.
Read More About: MONSTA X 'GAMBLER' Comeback, Traverse 3 Broadcast Stations
2021 kpop news
,
2021 kpop updates
,
Infinite
,
infinite 11th debut anniversary
,
infinite kpop
,
infinite kpop news
,
infinite news
,
infinite news 2021
,
KPOP
,
Kpop 2021
,
Kpop artist
,
Kpop artists
,
Kpop idols
,
kpop infinite
,
Kpop news
,
Kpop trend
,
Kpop trending
,
KPop trending news
,
Kpop trending now
,
kpop trending update
,
KPOP2021
,
Kpopall
,
KPOPIDA
,
KPOPNEWS
,
Trending
,
trending 2021
,
trending kpop
,
Trending Kpop news
,
trending kpop update
,
trending news
,
trending update kpop