On February 7, to celebrate Kpop group iKON member Jinhwan's birthday, his fan community announced that they had donated 1004 sets of COVID-19 quarantine sanitation kits for the vulnerable. Also, they donated 1004 large, medium-sized, and small-sized toilet pads each to an abandoned dog shelter.
Jinhwan's fan community has been donating for four years under the title of '1004 Donation Relay.'
Every year, they do it on Jinhwan Kim's birthday and debut anniversary.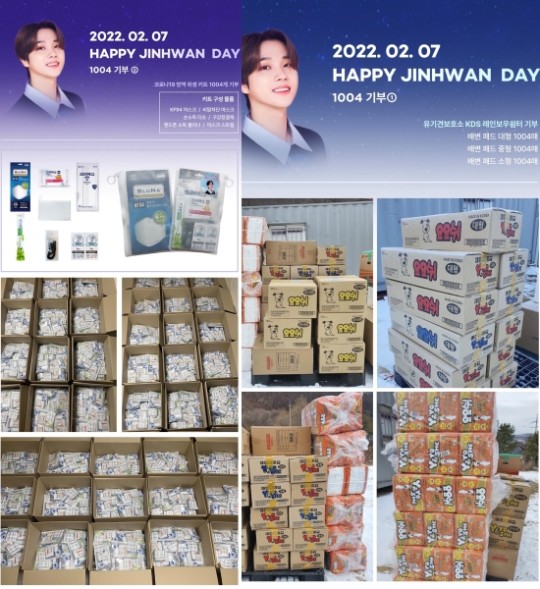 They said, "At this point when the number of confirmed COVID-19 cases is rapidly increasing, more thorough personal hygiene is a way to dampen the spread of the COVID-19."
Jinhwan Kim's fan club donated 1004 kg of feed to the abandoned dog shelter on the day of his debut in September last year. Next, they donated 1004 sheets of each size, thinking that the next necessary thing after the feed was a bowel movement pad.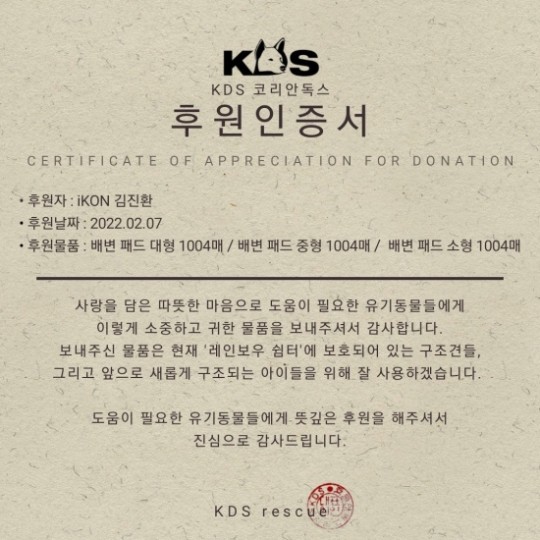 They said, "I hope that everyone will have a healthy year in 2022." 
The Jinhwan Kim fan club explained that Jinhwan Kim influenced these deeds, who loved animals.
Meanwhile, the fan club said, "Kpop group iKON member Jinhwan's solo album is all set. So, iKON's activities will surely continue d in 2022. To become a mature fandom, we will continue to do good deeds."
Read More About: 'Let Me Be Your Knight' OST Album To Be Released Today, Featuring BTOB Eunkwang, Monday Kiz, & Sunny
best Kpop girl group
,
best kpop news site
,
best kpopstar
,
breaking news kpop
,
daily kpop news
,
Fandom
,
Hip-hop Idol JIN
,
Jin
,
JIN news
,
Korean celeb news
,
Korean singer
,
Korean singer songwriter
,
KPOP
,
Kpop album
,
Kpop beauty routine
,
Kpop boy group
,
kpop celebrity news
,
Kpop chart and news
,
Kpop colllaboration
,
KPOP comeback
,
Kpop current news
,
kpop daily news
,
Kpop fashion
,
Kpop girls group
,
kpop idol JIN
,
Kpop idols
,
Kpop issues
,
Kpop latest news
,
Kpop music chart
,
Kpop news
,
Kpop news articles
,
Kpop news sites
,
kpop news update
,
Kpop recent news
,
Kpop skin care routine
,
Kpop skincare routine
,
KPop trending news
,
KPOPNEWS
,
Singer JIN
,
South Korean singer songwriter
,
the best kpop girl group
,
the best kpop girl group of 2021
,
the best kpop group of 2021
,
the top kpop group
,
top kpop boy group
,
top kpop girl group