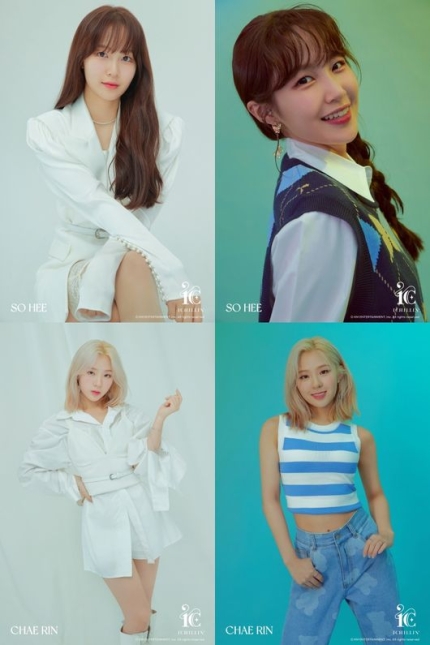 Profile photos and films of the 7-member girl group ICHILLIN members Sohee and Chaerin have been released.
KM Entertainment posted profile images and films of Sohee and Chaerin on their official social media and YouTube channel at noon on August 3rd.
In the published profile image, Sohee and Chaerin wear pure white outfits while staring at the camera. Their fresh yet chic expression is attracting attention. In the video, you can see the lively and colorful expressions and poses of Sohee and Chaerin, who are taking a profile picture.
ICHILLIN member Sohee showed off her cute charm with a braided her hair while posing a bright smile. Then, member Chaerin showed off her fresh charm. Her blonde hairstyle, a cropped sleeveless tee, wide-fit jeans, and a hip pose exudes cool charisma.
Both of them focused the attention of global K-pop fans waiting for ICHILLIN's debut with their perfect visuals and lovely charm.
On July 30th, ICHILLIN started promoting its official debut by releasing an official logo motion video. From August 2nd, the agency revealed the 7 members sequentially through official social media and YouTube.
The group name is a compound word of 'AISLING,' which means dream and vision, and 'CHILLIN,' used for various meanings such as relaxation and fashion.
With overwhelming looks and outstanding skills, ICHILLIN is spurring preparations aiming to debut this August.
Read More About: Yuri Eun Sings 'Dokdo Is Our Land' Japanese Version
2021 kpop updates
,
Chaerin
,
ICHILLIN debut
,
ICHILLIN members
,
ICHILLIN updates
,
KM Entertainment
,
KM EntertainmentKpop news update
,
Korean celeb news
,
KPOP
,
Kpop artist
,
Kpop artists
,
kpop celebrity news
,
Kpop Chaerin
,
kpop ICHILLIN
,
Kpop latest news
,
Kpop news
,
Kpop recent news
,
Kpop Sohee
,
Kpop trend
,
Kpop trending
,
KPop trending news
,
Kpop trending now
,
kpop trending update
,
KPOP2021
,
KPOPIDA
,
KPOPNEWS
,
latest kpop news
,
latest kpop updates
,
recent kpop news
,
Trending
,
trending 2021
,
trending kpop
,
Trending Kpop news
,
trending kpop update
,
trending news
,
trending update kpop