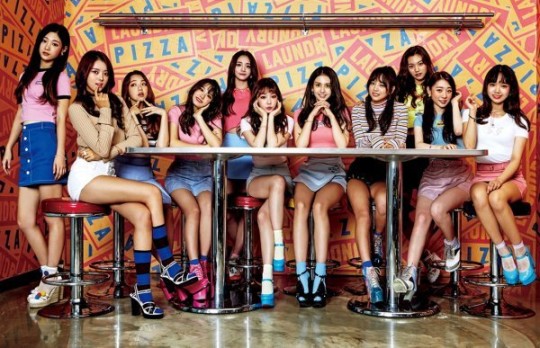 Girl group I.O.I celebrates their 5th Debut Anniversary.
The group had a special time with their fans.
Their 5th Debut Anniversary online broadcast was entitled, 'I.5.I-Yes, I love it!' All of the members are present except Mina Kang and Kyulkyung, who were absent due to conflicts on their schedule.
I.O.I has been together for one year after being formed through season 1 of the 2016 audition program Mnet's 'Produce 101.'
They officially ended their activities with a promise to 'reunite in 5 years.' So, to celebrate their 5th anniversary, they held an online event on the 4th of May, the date of their debut.
I.O.I, who has been actively engaged in individual activities, first mentioned their current situation. Nayoung Lim promotes her upcoming drama 'Imitation.'
Then, Somi Jeon announced that she is preparing for a new album.
Also, Sejeong Kim said she is preparing for a musical.
Particularly, Somi Jeon, who have grown a lot, said, "I am 21 years old. I thought I would be a minor all my life."
I.O.I had a great time watching videos from the time when they were active together. They can see themselves singing songs and dancing. They recalled their happy memories by watching their various videos. The members also attracted attention as they cried while watching their last concert video. Kyulkung, who was absent from the event, greeted the members with a surprise video call.
Sejeong Kim said, "It is amazing that there are times, I always miss our memories even though we always talk about it in our private chat room."
Yoojung Choi said, "I don't have many activities, but there are so many things that we've been together. So, there seems that we have so much to talk about."
Then, Chungha said, "There are people who edit and upload I.O.I activities. We all want to do projects or activities again as a group."
Read More About: SECRET Sunhwa Han Proved Her Good Acting Skills
2021 kpop news
,
2021 kpop updates
,
I.O.I
,
I.O.I 5th Anniversary
,
I.O.I online celeration
,
KPOP
,
Kpop 2021
,
Kpop artist
,
Kpop artists
,
Kpop news
,
Kpop trend
,
Kpop trending
,
KPop trending news
,
Kpop trending now
,
kpop trending update
,
KPOP2021
,
KPOPIDA
,
KPOPNEWS
,
Trending
,
trending 2021
,
trending kpop
,
Trending Kpop news
,
trending kpop update
,
trending news
,
trending update kpop