Hyuna, who has been suspected of bullying, posted on Instagram.
"I've raised my dream of being a singer since I was a kid. I am missing the time when I was In school, and I never bullied my friends in school. " – HyunA.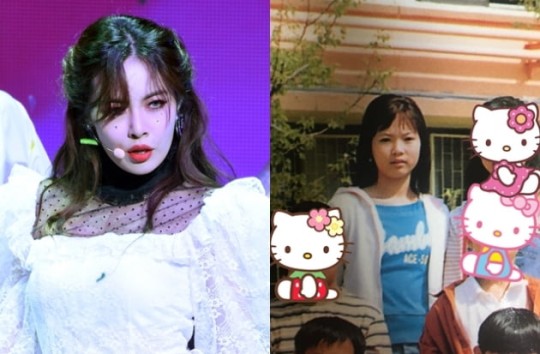 Singer Hyuna couldn't escape from the suspicion of being abusive. In response, Hyuna directly refuted through her SNS saying "I haven't bullied anyone."
On the 23rd, there is the article on the online community bulletin board that says "HyunA, I thought you would contact me first. Aren't you the first perpetrator of school violence?"
The author was an alumni from the same elementary school with Hyuna and asked, "I thought you would contact me. You don't remember the time or pretend you don't know, or are you thinking of me in your mind." Then, the author of the post claimed that "it was because you became a popular Kpop star at a tender age? The evidence had disappeared on Buddy buddy(Korean Messenger) and I remembered you joined Wonder Girls."
The author asserted that he was bullied by Hyuna in the fifth grade of elementary school. Also, he described the moment when she called him to an outside school restroom then slapped his face saying "We've never been friends." The other friends next to her, also slapped his face in turns. Hyuna took his glasses off because it made her uncomfortable to slap his face.
About the reason for the disclosure after decades, he said, "I was sure that there was no evidence so who would believe me? When I see you on TV, my anger is bursting. Are you reflecting on yourself?"
Hyuna expressed her opinion before her agency. Through her Instagram, she said, "I've been loved so much for 14 years since I debuted. Sometimes, I get upset in my sleep when I receive attention from people who express their interests in me in the wrong way, but because I am not a perfect person and this is my dream, I am trying to understand them and get over it considering it as an interest in me.
On the other hand, Hyuna showed her internal feeling by saying "I don't want my fans to feel hurt, pretend to get over it and act normal, like I do."
Hyuna also added, "Starting as a child from the age of 8, from the 5th grade of elementary school at 12 years old, I was regretting my school days as a trainee from the agency to fulfill my dream of becoming a singer." It was a hard feeling," she confessed.
Hyuna stands on the issue of school violence saying, "The story I want to tell you is that I have never slapped or hit anyone. I hope that the writer of the post will have many happy things in his heart." Hyuna expressing her wish for the author.
The following is the full text of Hyuna's Instagram posts.
It's been more than 10 years and I've been receiving so much love since my debut, and now it's been 14 years. When I was angry from attention that goes wrong, I just laughed it off for the sake of my dream or I tried to understand. I don't want to hurt the fans who support and watch me on TV or on stage for no reason, because my fans do not want to hurt me and they just want me to be healed and be like everybody else.
Now, at the age of 30, I brought this up quite hard for the first time. I debuted at a young age around fifteen, and I am very grateful for receiving a lot of love. I will continue to improve myself in the future and I want to live as I am now sharing my warm heart and having an attitude of learning.
Furthermore, of course, there are many more stories I can tell you, but in case you would like to hear it, I started as a child role assistant from the age of 8, and from the 5th grade of elementary school, I lived as a trainee at a management company while raising my dream of becoming a singer. I am regretful for my time at school. I had to take the bus to the company immediately after school, and that's only the time where I could accumulate memories and experiences. I have this feeling that my young heart was robbed off that time.
So, the story I want to tell you is that I have never slapped, nor have I hit anyone. I hope that the person who wrote it will have many happy things in his heart.
Read More About:
ITZY Lia Suspicion of Harassment, JYP Took Legal Action
LOONA-Chuu, suspicion of school bullying