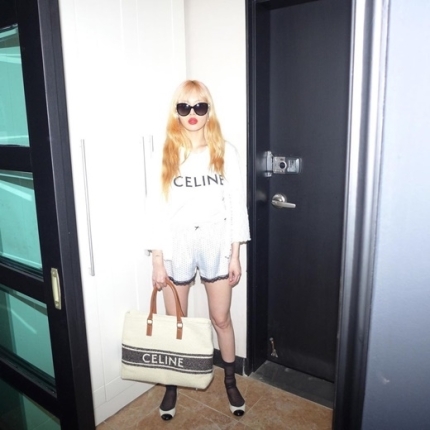 Singer Hyuna revealed her daily life with her luxury bag and shirt.
On June 17th, she posted several photos with emoticons on her Instagram.
She is wearing sunglasses in front of her main door and making an expressionless face in the photo. Her luxurious everyday fashion stands out.
Particularly, she is wearing a white T-shirt and bag with the logo of the luxury brand 'Celine.'
In fact, the price of the luxury bag that Hyuna has is in the 2 million won range and the T-shirt is around 500,000 won.
Read More About: Hyuna, Vogue Korea Summer Makeup Pictorial Released
2021 kpop
,
2021 kpop girl idols
,
2021 kpop news
,
2021 kpop news updates
,
2021 kpop updates
,
2021 news kpop
,
2021 updates on kpop
,
HYUNA
,
hyuna kpop
,
hyuna updates
,
KPOP
,
Kpop 2021
,
Kpop artist
,
Kpop artists
,
kpop hyuna
,
kpop hyuna updates
,
Kpop idols
,
Kpop news
,
Kpop trend
,
Kpop trending
,
KPop trending news
,
Kpop trending now
,
Kpop_Hyuna
,
KPOP2021
,
Kpopall
,
KPOPIDA
,
KPOPNEWS
,
Kpopnews 2021
,
Kpopnews2021
,
news with hyuna
,
trending 2021
,
trending kpop
,
Trending Kpop news
,
trending kpop update
,
trending update kpop