'Street Woman Fighter' dance crew members Noze and Emma emerge as hidden gems on Hyuna & Dawn's 'PING PONG' performance.
Hyuna & Dawn started their first duet activities with the title song 'PING PONG' of the EP '1+1=1' on September 9th. So, it is now attracting the attention of many music fans. 
The overwhelming performance and chemistry of Hyuna & Dawn in their comeback performance and music video of 'PING PONG' gave viewers a sense of pleasure. In fact, it gathered a high number of views. Through this, the chemistry of two people, who proved their skills as well as topicality, took their first successful steps.
One main point to watch in their performance and music video is the neat and magnificent group dance. In fact, many dancers participated in Hyuna & Dawn's couple performance and breakdance.
Among them, the dancers appearing in Mnet's 'Street Woman Fighter,' which is currently airing, were captured. Noze, WAYB's leader with both looks and skills, and Emma of WANT, who was active as the main dancer for the sub-class mission, participated in the 'PING PONG' MV.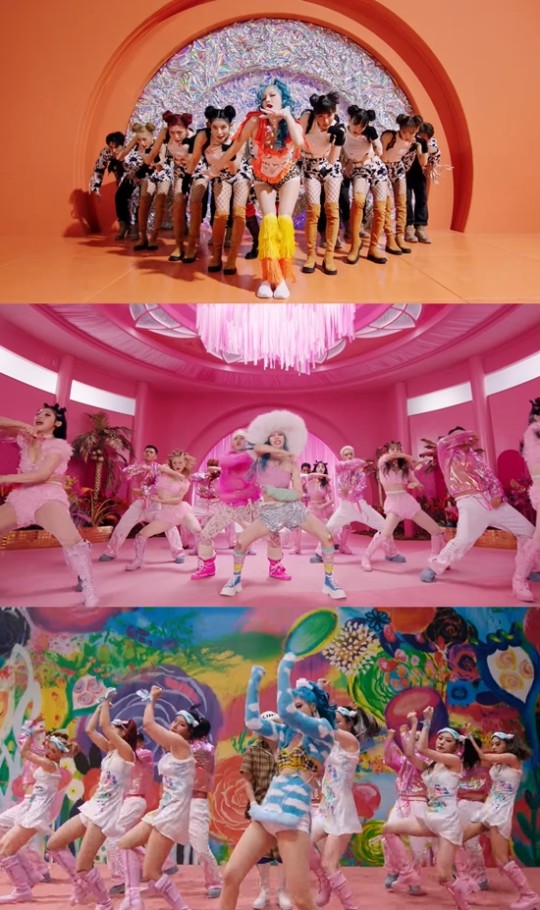 First, Noze showed a charming dance line in the seat next to Hyuna in the 'PING PONG' music video. The charm and dance of Noze, which goes well with Hyuna's unique atmosphere, caught the eye of the fans. After the music video's release, Noze also posted on her social media the behind-the-scenes cut that seemed like taken at the shooting site.
Emma took the left side of Hyuna & Dawn on the music video of 'PING PONG.' Even with the mask on, Emma's powerful dance moves and feelings stood out, making the 'PING PONG' performance more colorful and splendid.
These appearances of Noze and Emma are gathering topics in online communities and social media. Many netizens responded with various reactions such as "The unique styling is different from 'Street Woman Fighter," "Dancers are the coolest when they work full time," and "It seems that Hyuna & Dawn put a lot of effort into 'PING PONG.'"
Hyuna & Dawn's 'PING PONG' performance is receiving more attention. So, it is raising expectations as it also signals future activities in music broadcasts and content.
In addition, the 'PING PONG' dance challenge is in progress through P Nation's official social media. Hyuna & Dawn, as the first runners in the challenge, are attracting a lot of attention as they show off their addictive couple choreography.
Read More About: NOEL Woosung Jeon Releases His New Solo Song 'I'm Afraid I'll Stop Liking It'
Dawn
,
Duet EP 1+1=1
,
EMMA
,
HYUNA
,
hyuna kpop
,
hyuna updates
,
Hyuna_Dawn
,
Hyuna&Dawn
,
KPOP
,
Kpop artist
,
Kpop artists
,
KPOP dance
,
kpop hyuna
,
kpop hyuna updates
,
Kpop idols
,
Kpop news
,
Kpop trend
,
Kpop trending
,
KPop trending news
,
Kpop trending now
,
kpop trending update
,
KPop_dawn
,
Kpop_Hyuna
,
KPOP2021
,
KPOPIDA
,
KPOPNEWS
,
news with hyuna
,
NOZE
,
PING PONG
,
PING PONG MV
,
singer dawn
,
singer hyuna
,
Street Woman Fighter
,
Trending
,
trending 2021
,
trending kpop
,
Trending Kpop news
,
trending kpop update
,
trending news
,
trending update kpop