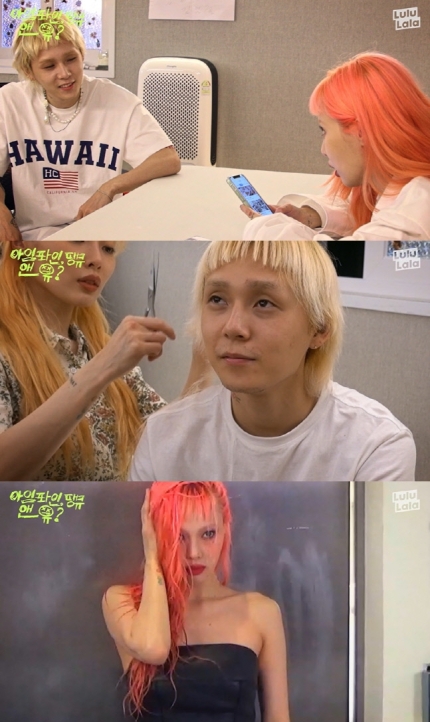 Kpop singers Hyuna and Dawn revealed the real life of a 6-year couple.
Hyuna and Dawn showed their loveliness through the first episode of 'I'm Fine Thank You and You?' released on the studio Lululala YouTube channel on August 31st.
'I'm Fine Thank You And You?' is the first documentary to try at JTBC's 'Studio LuluLala.'
Singer Hyuna made her first appearance with her own-cut bangs. Dawn said, "Cut it however you want," but he was shocked when Hyuna cut it short.
Hyuna called Dawn 'Honey' and started cutting her hair again. Dawn said, "When I was in middle school, I went to my grandmother's barbershop in a hurry to get my hair cut. It feels similar to back then," he said with a laugh.
Next, Hyuna pointed out to Dawn, "You don't watch other artists' performances," and showed the latest popular songs. Particularly, she provoked admiration by imitating STAYC's 'ASAP' choreography to AESPA's 'NEXT LEVEL.'
Dawn said that he only sees Hyuna, not other celebrities at the broadcasting station. Dawn said, "The only thing I see is you. I look like a rock to other people. Love is like Dawn."
Hyuna, who is passionate about her work and love, also attracts attention. She received praise from the staff for her professionally focused appearance at the photoshoot set that followed.
Hyuna and Dawn took good care of their dogs, Salt and Haetnim, during their break. Hyuna said, "When I see Salt and Haetnim, I will die prettily. I am so happy that we have such a special existence."
Then, Dawn said, "In fact, few people meet outside of work and be friends. Hyuna is worse. I've been working since I was so young, so I don't have any."
Next, Hyuna and Dawn took a walk with the dog together, creating a sweet atmosphere. So, they are raising the expectations about what more they will show in the future through this documentary.
The two, who revealed their daily life as a couple through a documentary, will release the EP '1+1=1,' which they composed and wrote lyrics for all songs on September 9 at 6 pm and start their first duet activity.
Read More About: Kakao Entertainment Completed Its Merger With Melon
Dawn
,
HYUNA
,
hyuna kpop
,
hyuna updates
,
Hyuna with Vogue Korea
,
Hyuna_Dawn
,
Hyuna&Dawn
,
KPOP
,
Kpop 2021
,
Kpop artist
,
Kpop artists
,
Kpop couple
,
kpop hyuna
,
kpop hyuna updates
,
Kpop idols
,
Kpop news
,
Kpop trend
,
Kpop trending
,
kpop trending announcement
,
KPop trending news
,
Kpop trending now
,
kpop trending update
,
KPop_dawn
,
Kpop_Hyuna
,
KPOP2021
,
Kpopall
,
KPOPIDA
,
KPOPNEWS
,
news with hyuna
,
singer dawn
,
singer hyuna
,
Trending Kpop news
,
trending kpop update
,
trending update kpop