JYP invests in SM subsidiary Dear U. Japanese girl group NiziU joins 'Bubble.' HYBE and YG join forces to expand global reach. Then, 'Universe' is also expanding its users.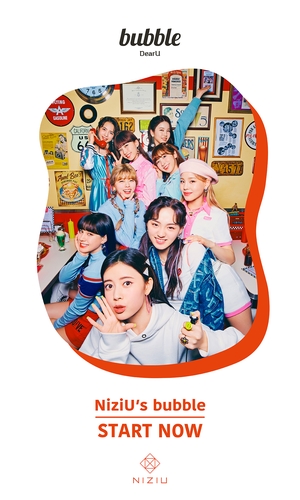 Entertainment companies have put their lives on the line for the growth of online fan platforms, which have emerged as the core of the fandom business since the pandemic.
There is also a clear trend in which partnerships between large agencies are active. Companies are expanding the artist lineups overseas to become global.
JYP Entertainment recently became the second-largest shareholder by acquiring a 23.3% stake in Dear U, a subsidiary of SM Entertainment. It operates a private message 'DearU Bubble' service between fans and artists.
On June 7th, NiziU, a Japanese girl group created by JYP through K-pop training, joined the bubble.
NiziU is Dear U's first overseas group service. All 9 members are Japanese. NiziU is enjoying explosive popularity in Japan. So it is expected that Japanese users will join the service through their bubble initiation.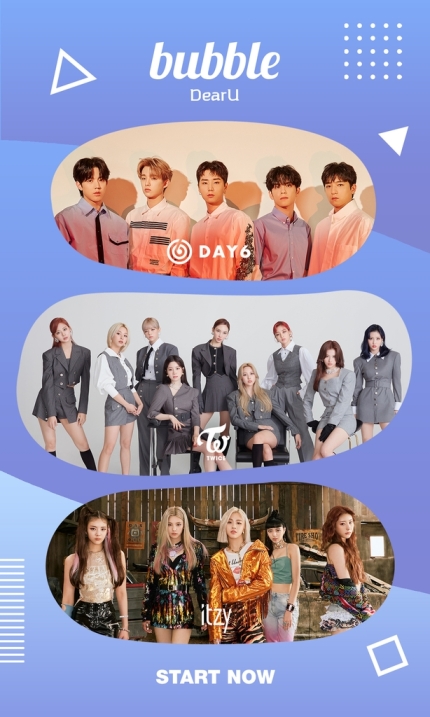 'Bubble' is a platform where fans can send and receive messages in the form of 1:1 chatting with artists. Fans can use this feature by paying a subscription fee of KRW 4,500 per month.
It is trendy among K-pop fans because you can receive messages from artists directly. The proportion of overseas users reaches 68%.
Currently, more than 150 artists from 13 companies are using it. JYP has also put its group in the bubble since last year.
SM and JYP, the leading K-pop agencies, have strengthened their partnership with the platform by purchasing shares. Dear U aims to be on the list of Korean Securities Dealers Automated Quotations (KOSDAQ) in the second half of this year. There are reports that they are considering attracting foreign artists in the future.
SM presented its goal of growing (bubble) into a competitive mobile platform in the global market. JYP said, "We are considering expanding our business into more diverse platform business areas."

The two companies are strengthening cooperation because online fan platforms have emerged as an important revenue source for entertainment companies suspended from offline performances since the pandemic.
An online fan platform is a channel through which agencies provide fans with various digital contents and distribute MD (fan products). It also functions to unite and strengthen fandom through two-way communication between fans and artists.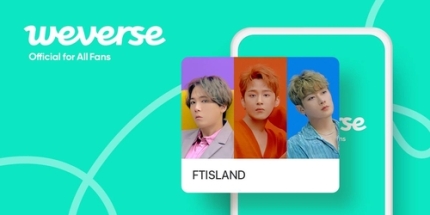 Large agencies such as HYBE and SM tend to build their own platforms. Expanding their businesses became evident after the pandemic. It is by attracting singers from other agencies.
HYBE created the fan community platform, Weverse. They actively expanded their artist lineup, with 23 domestic and foreign teams currently operating in the community. On the same day, FNC Entertainment's popular band FT Island joined.
HYBE announced its plan to create a huge K-pop platform. This year, it integrates rival Naver's V-Live and Weverse earlier this year and forms a partnership with YG Entertainment.
Currently, Weverse is an open community where artists can access various messages and content. While Bubble has a slightly different feature, focusing on private messages in the form of 1:1 chat.
However, some analysts say that SM and JYP establish a competitive front against HYBE, YG, and Naver. It is regarding their influence in the fandom platform market.
NCsoft's 'UNIVERSE' also became a hot topic by jumping into the K-pop platform market as a game company. The number of users is rapidly increasing.
18 K-Pop groups are using the 'Universe.' It includes Daniel Kang, The Boyz, Brave Girls, (G)I-DLE, and OH MY GIRL. It surpassed 10 million cumulative downloads in about 4 months since the service started.
There are about 3.3 million monthly active users, with 80% of overseas users. The private message function features original content. It includes web entertainment produced by itself in line with the expanded world perspective.
Read More About: INFINITE 11th Debut Anniversary Live Broadcast
2021 kpop news
,
2021 kpop news updates
,
2021 kpop updates
,
2021 updates on kpop
,
HYBE
,
HYBE Music
,
JYP
,
JYP Entertainment
,
KPOP
,
Kpop 2021
,
Kpop artist
,
Kpop artists
,
Kpop idols
,
Kpop news
,
Kpop trend
,
Kpop trending
,
KPop trending news
,
Kpop trending now
,
kpop trending update
,
KPOP2021
,
Kpopall
,
KPOPIDA
,
KPOPNEWS
,
sm entertainment
,
Trending
,
trending 2021
,
trending kpop
,
Trending Kpop news
,
trending kpop update
,
trending news
,
trending update kpop
,
UNIVERSE MUSIC
,
YG entertainment
,
YG entertainment groups
,
YG Kpop artists