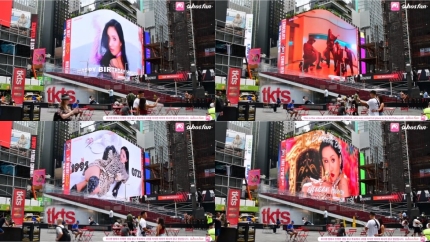 Hwasa, a member of the group MAMAMOO, is attracting attention by appearing on a large billboard in Times Square, New York.
The global K-pop fandom platform 'Whosfan conduct a poll asking, "Who's the idol to celebrate birthday in Times Square?"
Hwasa took first place in the 4th week of July voting. With the support of Whosfan, they sent a happy birthday advertisement on a large billboard in Times Square, New York.
In fact, Hwasa celebrated her 26th birthday on July 23rd. She took first place with a high global voter turnout of 56.92% in the voting from June 28th to July 5th. Then, TREASURE's Jaehyuk Yoon and SF9's Dawon took second and third place, respectively.
The advertisement will run until July 25th on a large billboard measuring 47m in width in the building right next to 'tkts,' known as the heart of Times Square in New York.
At midnight on July 23rd, Whosfan revealed the local situation where they broadcast the advertisement through YouTube's 'Whosfan TV' channel. In fact, Hwasa's global fans directly produced the advertisement video, adding meaning to it.  

In addition, the advertisement video shows a music video scene featuring Hwasa's unique performance and facial expression, boasting the dignity of 'Solo Queen' worldwide.
Read More About: SUPER JUNIOR, Ranked 1st In Taiwan's Largest Music Site
2021 kpop
,
2021 kpop girl idols
,
2021 kpop news
,
2021 kpop news updates
,
2021 kpop updates
,
2021 news kpop
,
2021 updates on kpop
,
hwasa
,
hwasa mamamoo
,
hwasa_mamamoo
,
KPOP
,
Kpop artist
,
Kpop artists
,
kpop hwasa
,
Kpop news
,
Kpop trend
,
Kpop trending
,
KPop trending news
,
Kpop trending now
,
kpop trending update
,
KPOP2021
,
KPOPIDA
,
KPOPNEWS
,
Mamamoo_hwasa
,
Trending
,
trending 2021
,
trending kpop
,
Trending Kpop news
,
trending kpop update
,
trending news
,
trending update kpop