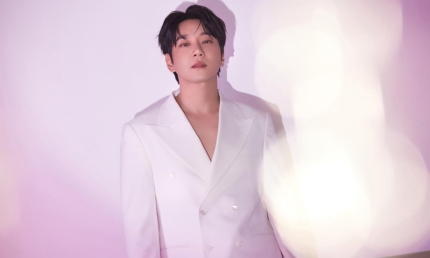 Hwang Chiyeul begins to stand alone with his new mini-album 'Be My Reason.'

Recently, Hwang Chiyeul announced his comeback with a new album in about two years and three months after releasing the regular album 'The Four Seasons' in January 2019.

On the 2nd at 6 pm, he will release various teaser contents. It is ahead of releasing his new album 'Be My Reason' through various music sources. The return of the 'Ballard Emperor' was announced. So, the interest of the fans who have been waiting for his new album is more than ever.

In fact, Hwang Chiyeul showed a record of being a recording powerhouse, exceeding 100,000 copies of the initial song every album release. He gained great popularity locally and abroad and showed outstanding prominence as a male solo vocalist.
Therefore, we picked three expected points to enjoy Hwang Chiyeul's new mini-album, 'Be My Reason.'
# First album after being alone
Hwang Chiyeul is releasing a new mini-album under his name through 'Be My Reason .'After being alone, this will be his first album. He devoted himself to recording and producing albums day and night to quench the thirst of fans who have been waiting for his music for a long time.

So, he's on the list of representing the music industry by sweeping various music charts for each song released. His songs include 'Songs I listen to every day,' 'I want to return,' 'Dear Stars,' 'You are stuck in me,' and 'Walking a breakup.' This new album, 'Be My Reason,' will show the true value of vocalist Hwang Chiyeul. In fact, this will be his first album after a long time as well.
# Music video with a solid story to increase the immersion of the song
Actually, they produced the music video for his new song, 'Two Letters,' in the form of drama tights. Hwang Chiyeul directly appears as a male protagonist, adding to the immersion of the song. Actor Moon-Seok Eum is proud of his close friend Hwang Chiyeul, which appeared and improved the degree of completion.

In fact, Hwang Chiyeul and Moon-Seok Eum unfold a story as if you are watching a drama. Their attractive and hot performance will vividly express the emotional line of saying 'Goodbye.'
So, it maximizes the song's immersion in an instant. These songs will make you fall in love.

# Hwang Chiyeul Parting Ballad
This album, filled with ballads, is a genre representing Hwang Chiyeul. It includes the title song 'Two Letters,' 'You are the reason,' 'She's Gone," Rain,' 'I Didn't Know,' and 'Unforgettable.' He will be going to express the essence of the songs.
The last track, 'Unforgettable,' perfectly expresses most of 'Hwang Chiyeul's love for fans, music, and loved ones. It is by participating in the lyrics and composition of himself. Once again, it raised the completeness of the album.
Meanwhile, on the 1st, Hwang Chiyeul opened a one-minute preview of his new song 'Hello Iran,' on Tiktok. In addition, he will release a new mini-album, 'Be My Reason' on the 2nd through various music sites.
Read More About: Lim Young Woong Gathered 1 Million Views On YouTube
2021 kpop updates
,
Allkpop
,
be my reason
,
hwang chiyeul
,
KPOP
,
Kpop 2021
,
Kpop artist
,
Kpop hottest singer
,
Kpop idols
,
Kpop news
,
kpop singer
,
Kpop trend
,
Kpop trending
,
KPop trending news
,
Kpop trending now
,
kpop trending update
,
kpop updates
,
KPOP2021
,
Kpopall
,
KPOPIDA
,
KPOPNEWS
,
Trending
,
Trending Kpop news
,
trending news