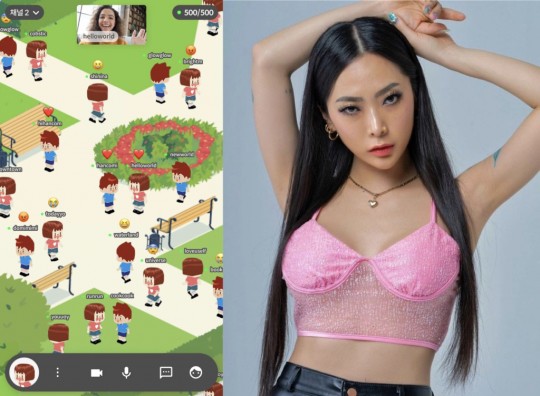 Mnet's 'Street Woman Fighter' winner Honey J, the leader of the HOLYBANG team, will make a live broadcast at Cyworld Hancom Town, Cyworld's metaverse space.
Honey J will be broadcasting live twice on December 24 and 31.
Honey J initially decided to hold 'Metaverse in advance, Merry Christmas in advance' only on December 24. But. Cyworld Hancom Town and Honey Jay will perform one more time on December 31 to repay the fans' enthusiastic response.
Before Honey J's live broadcast on December 24, Cyworld Hancom Town received applications for participation through the Cyworld website. Also, they will release promotional image QR codes from 12 pm on December 22 to 10 pm on December 23.
Among those who replied to the topic, "What do you want to do if you spend Christmas with Honey J?" they decided to select and invite 100 people who posted interesting articles.
On December 22, traffic on the Cyworld website tripled from usual as comments flocked to the application for participation in the event. So, according to Cyworld Hancom Town, they decided to broadcast live once more on December 31.
Honey J's live broadcast on December 31 will take place under the title of 'Metaverse in advance, 2022 in advance' with the theme of her New Year's plan.
They will announce the participation method on the Cyworld website.
Cyworld Hancom Town said, "It will be a fun fan meeting in a metaverse space. Cyworld Hancom Town is a space where up to 500 people can access at the same time to hold corporate events, seminars, and fan meetings. It also supports recall meetings and chat services. It allows squares sharing through invitation links," he explained.
Meanwhile, Cyworld, which has 32 million existing members, began reviewing the app on December 8 after restoring 17 billion photos, 150 million videos, and 1.1 billion diaries. Once they pass the screening, Cyworld will return to everyone's arms for the first time in more than two years.
Read More About: Zion.T Delivers Empathy & Comfort With The Release Of His New Song 'A Gift!' Today!
best Kpop girl group
,
best kpop news site
,
best kpopstar
,
breaking news kpop
,
daily kpop news
,
Fandom
,
Jinwoo Kim
,
Korean celeb news
,
Korean singer
,
Korean singer songwriter
,
KPOP
,
Kpop album
,
Kpop beauty routine
,
Kpop boy group
,
kpop celebrity news
,
Kpop chart and news
,
Kpop colllaboration
,
KPOP comeback
,
Kpop current news
,
kpop daily news
,
Kpop fashion
,
Kpop girls group
,
kpop group winner
,
Kpop idols
,
Kpop issues
,
Kpop latest news
,
Kpop music chart
,
Kpop news
,
Kpop news articles
,
Kpop news sites
,
kpop news update
,
Kpop recent news
,
Kpop skin care routine
,
Kpop skincare routine
,
KPop trending news
,
KPOPNEWS
,
minho song
,
Mnet
,
Mnet program
,
MNET SHOW
,
Mnet TMI News
,
Seunghoon Lee
,
Seungyoon Kang
,
South Korean singer songwriter
,
the best kpop girl group
,
the best kpop girl group of 2021
,
the best kpop group of 2021
,
the top kpop group
,
TMI NEWS
,
top kpop boy group
,
top kpop girl group
,
WINNER
,
WINNER members