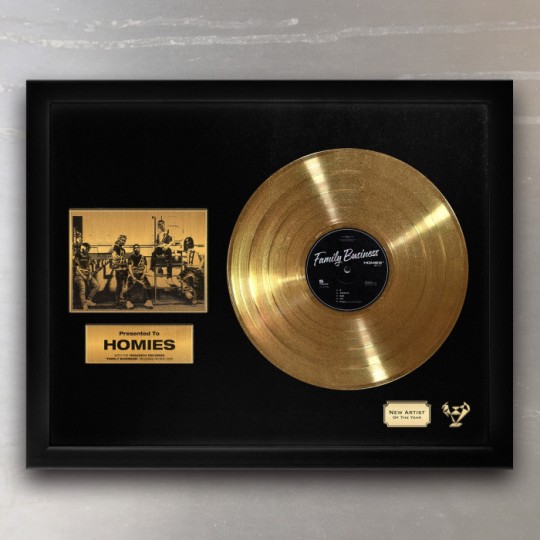 The hip-hop trio 'Homies' won the 'Rookie Artist of the Year Award' at the '2021 Korea Hip-Hop Awards.'
They will release the 'Family Business' Extended Play (EP) Album on May 18th.
The EP album 'Family Business' starts with the first track 'The End.'
It is a song where the Homies conveyed their autobiographical story through the lyrics. The second track, 'Louis Vuitton Belt,' is the album's title song. Whereas 'Hong Gildong,' the third track and fourth track, 'Ah- Ha!' shows off an addictive chorus, highlighting their success. The last track 'Hungry,' featured rising rappers, OUREALGOAT and LIL GIMCHI.
This new album has 5 tracks and produced by Kidstone, which combines the members' unique and autobiographical stories.
The Homies said, "It's a completed album that we've wanted to build so far. It's a meaningful album that goes through everything from the beginning to the end with our own hands."
The hip-hop trio 'Homies,' which entered the ranks by winning the Rookie Artist of the Year award at the 2021 Korea Hip-Hop Awards held in February, will be releasing the new album, 'Family Business' on various online music sites at 6 pm on May 18th.
Read More About: Hyungdon and Daejun Announces The Release Of New Songs
2021 kpop news
,
2021 kpop updates
,
hip-hop group HOMIES
,
homies
,
HOMIES Family Business
,
KPOP
,
Kpop 2021
,
Kpop artist
,
Kpop artists
,
Kpop idols
,
Kpop news
,
Kpop trend
,
Kpop trending
,
KPop trending news
,
Kpop trending now
,
kpop trending update
,
KPOP2021
,
Kpopall
,
KPOPIDA
,
KPOPNEWS
,
Trending
,
trending 2021
,
trending kpop
,
Trending Kpop news
,
trending kpop update
,
trending news
,
trending update kpop