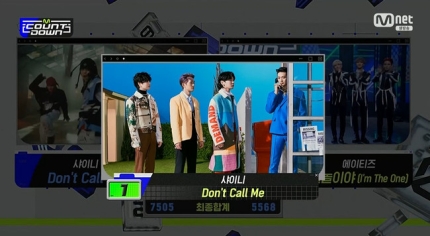 Group SHINee achieved 6 crowns on music broadcasting.
Recently, SHINee won first place without appearing on the live broadcast on Mnet 'M Countdown' aired on March the 11th.
SHINee won 6 crowns in music broadcasting. This includes SHINee's MBC Music 'Show! Champion' and Mnet 'M Countdown'. Also, MBC 'Show! Music Core and SBS Inkigayo, 'Show! Including Champion'. On February 22nd, SHINee released their 7th album 'Don't Call Me'. They swept the top spot on domestic and international music charts with the title song of the same name.
SHINee's new album topped the domestic album daily and weekly charts. It has been loved both locally and abroad. They ranked no.1 on Japan's Oricon Weekly Digital Album Chart (February 22-28) and iTunes Top Album Chart in 47 regions worldwide. Also, they topped the list on China's QQ Music and Kuwar Music Digital Album Sales Chart. In Japan SHINee also topped the list of the Line Music Album Top 100 Chart. SHINee's achievements prove their global popularity.
In other news, on the 'M Countdown', many artists and idols performed on stage. This included Oh My Girl's Hyojeong, ONF, ATEEZ, VeriVery, WoodZ, WayV, MCND, BDC, Ghost9, Pixy, Tri.be, G-reyish, etc.
In particular, WayV announced their comeback by releasing their new song 'Kick Back', they sang their new song on the air for the first time. 'Kick Back' is a progressive R&B dance song with an impressive rap with energetic vocals and relaxed flow.

Next, BDC showed their own personality by singing their new song 'MOON RIDER'. 'MOON RIDER' is a track in the electro-pop dance genre with a grooved bassline and dramatic beat.
Also, Ghost9 released intense energy with their new song 'SEOUL'. This song is an EDM-based pop dance track, harmonizing the voices of Ghost Nine members. They transcend intensity and sweetness on a trendy beat.
WOODZ (Seung-Yeon Cho) launched his comeback. He unveiled his first single 'SET' on 'M Countdown'. The song 'Touche' received hot attention from music fans before its release. On next week's M Countdown', he will be releasing and singing the title song 'FEEL LIKE' for the first time.
In addition, there was also a special stage. The Brave Girls showed off on stage with 'Rollin'. Released in March 2017, 'Rolin' reached the top of the music chart after being re-examined through the video site YouTube, and fans reviewing comments after 4 years.
Finally, ONF leader Hyojin made a special performance for spring with Oh My Girl's leader Hyojeong. Hyojeong is his senior at the management company WM Entertainment. The two sang on stage 'Spring Love, Not Cherry Blossoms'.
Read More About: WOODZ Performed 'Feel Like' On MBC's 'Show Champion'