Singer Goon Park attracted attention, saying that his family honored him just being nominated for the No. 1 spot on the 'The Trot Show' with great senior singers.
On the afternoon of June 28th, airs the live broadcast of SBS FiL/SBS MTV trot chart show 'The Trot Show.'
Goon Park with 'One Shot,' is one of the nominees for 1st place.
On this day, he competed for first place with Youngwoong Lim and Young Tak. When host Kyungwan Do asked, "Honestly, who do you think will take first place?" Park said, "Can I be honest? To be honest, I think Youngwoong Lim will win first place."
He said, "To be a nominee for first place with great seniors Youngwoong Lim and Young Tak is an honor for my family."

The final result of the day was Youngwoong Lim with 8803 points, Goon Park with 4126 points, and Young Tak with 3878 points. According to Park's 'prophecy,' Youngwoong Lim took first place with 'Elevator, Not Stairs.'
Goon Park couldn't hide his joy at the unexpected second place record.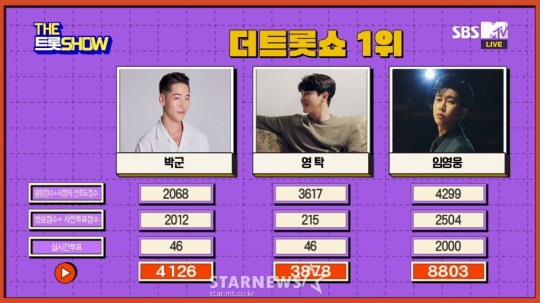 Read More About: ITZY & Second Aunt Kim Davi Drops Teaser For 'Break Ice'
2021 kpop news
,
2021 kpop updates
,
goon park
,
goon park kpop
,
KPOP
,
Kpop 2021
,
Kpop artist
,
Kpop artists
,
kpop goon park
,
Kpop idols
,
Kpop news
,
Kpop trend
,
Kpop trending
,
KPop trending news
,
Kpop trending now
,
KPOP2021
,
Kpopall
,
KPOPIDA
,
KPOPNEWS
,
park goon kpop
,
the trot show
,
trending kpop
,
Trending Kpop news
,
trending kpop update
,
trending update kpop
,
young tak kpop
,
youngwoong lim kpop