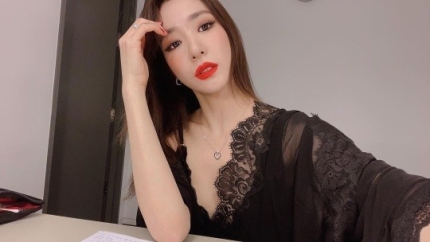 Girls' Generation Tiffany showed off her sexy charisma.
On the 5th of May, singer and musical actress Tiffany posted a photo on her Instagram. She put the caption, "first Wednesday matinee."
In the photo, she is wearing a black slip dress. She emphasized her appearance with her intense red lip. Her fascinating charisma caught the attention of fans. Even before, she was expressing various charms and established herself as one of the beautiful celebrities.
Fans who saw her post praised her dazzling beauty by leaving comments such as "She's so pretty" and "She is like a jewel. She's so cool."
As of now, Girls' Generation member Tiffany is appearing as Roxie in the musical 'Chicago.'
Read More About:
Girls' Generation Sunny Showed Off Her Perfect Appearance
MBN 'The King Of The Voice', Staff Tested Positive For Coronavirus
2021 kpop girl idols
,
2021 kpop news
,
2021 kpop updates
,
2021 updates on kpop
,
Girls Generation
,
Girls generation Tiffany
,
KPOP
,
Kpop 2021
,
Kpop artist
,
Kpop artists
,
Kpop girls group
,
Kpop idols
,
Kpop news
,
Kpop trend
,
Kpop trending
,
KPop trending news
,
Kpop trending now
,
kpop trending update
,
KPOP2021
,
Kpopall
,
KPOPIDA
,
KPOPNEWS
,
Kpopstars
,
Tiffany Instagram
,
Tiffany Young
,
Trending
,
trending 2021
,
trending kpop
,
Trending Kpop news
,
trending kpop update
,
trending news
,
trending update kpop