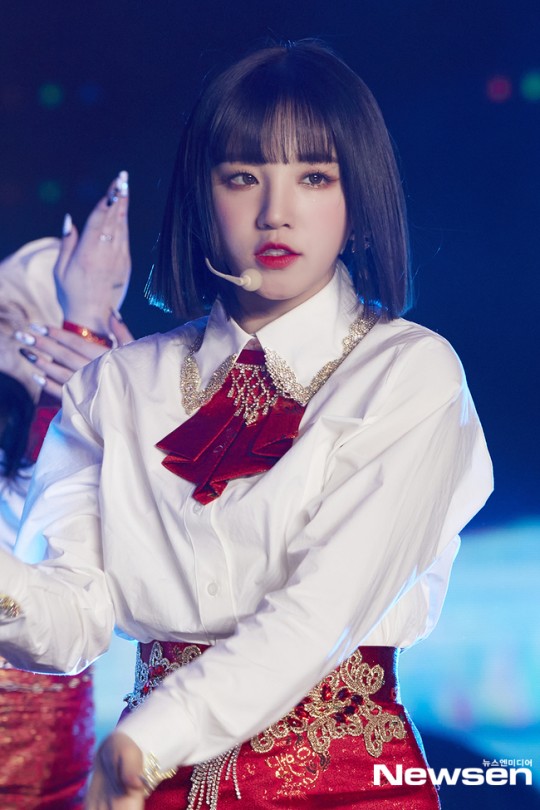 Group (G)I-DLE member Yuqi revealed her feelings through her first solo song.
On May 13 at 6 pm, Yuqi released a new digital English single, 'A Page,' on domestic and foreign music sites.
This single is Yuqi's first solo song after her debut as a member of (G)I-DLE in 2018 and after becoming a Cube Entertainment trainee. Starting with (G)I-DLE's first mini-album, 'I-Burn' in January, Yuqi released several albums and singles, showing unrivaled concepts and attractive vocals. Yuqi, who received much love from domestic and foreign music fans, went on a solo career through 'A Page.'
'A Page' contains Yuqi's musical growth intact. She honestly unfolds her autobiographical story as if she unfolded a page in her diary. Also, she filled in the lyrics of all songs in English.
The first track, 'Giant,' is a pop-rock genre song with a drum line sound. It adds to the completeness of a grand atmosphere. There are lyrics, saying, "I'll rise up like a giant/ Hold my head a little higher/ So don't you doubt me/ When I'm fighting my lonely nights/ Standing tall like a giant/ Yeah I'll be going higher."
Through the lyrics, the story of a girl who does not give up in pain, worries, and fears and goes forward like a giant aroused empathy. Yuqi's unique solid vocals and attractive tones evoke the admiration of the listeners.
It is also a track that allows Yuqi to re-examine her musical capabilities. Yuqi consistently participated in (G)I-DLE's songs such as 'I'm THE TREND' and 'LOST' since her debut. Also, she participated as a songwriter and composer of 'Giant' to prove her expanded musical spectrum. Aside from that, BOYTOY, Young Sky, Peter Hyun, and ChaTone work together as co-writers and composers. This is to enhance the track completeness.
The 'Giant' music video released simultaneously as the sound source adds a sense of immersion. It is by sensationally embodying the song's message that it will rise like a giant overcoming frustration and wandering.
The second track, 'Bonnie & Clyde,' contains a hopeful message that even if the world turns its back on us, we can overcome it as we have 'The ride or die' (the eternal side). Also, the song's mood doubled as Yuqi adds her fascinating tone to the lyrics. It resembles a scene from the movie, and its melody will bring back the feelings of the 90s.
So, music fans are anticipating the outcome of the new song. The (G)I-DLE, to which Yuqi belongs, proved their hot global popularity in January. Their title track, 'HWAA' from their fourth mini-album, 'I Burn' topped the iTunes charts in 52 regions and won eight music broadcasts.
Read More About: ITZY, 1st Place In 'M Countdown' Beating BEAST (Highlight)
2021 kpop news
,
2021 kpop updates
,
g-idle
,
G-IDLE kpop
,
g-idle news
,
g-idle_yuqi
,
KPOP
,
Kpop 2021
,
Kpop artist
,
Kpop artists
,
Kpop idols
,
Kpop news
,
Kpop trend
,
Kpop trending
,
KPop trending news
,
Kpop trending now
,
kpop trending update
,
KPOP2021
,
KPOPIDA
,
KPOPNEWS
,
Trending
,
trending 2021
,
trending kpop
,
Trending Kpop news
,
trending kpop update
,
trending news
,
trending update kpop
,
yuqi kpop
,
yuqi new single
,
yuqi_a page