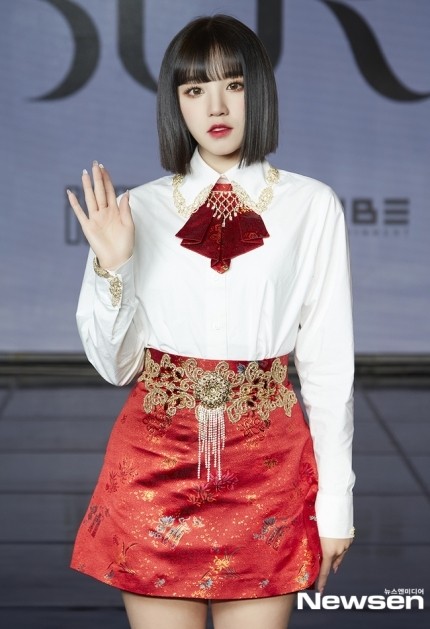 Group (G)I-DLE member Yuqi proved her hot popularity in China.
Yuqi, who released her first solo digital single, 'A Page' after her debut on May 13th, rose to No. 1 in real-time search terms in Weibo Entertainment, China's largest social network service. In the domestic Twitter real-time trend, the hashtag commemorating Yuqi's single release also reached the top spot.
'A Page' is a single that unfolds Yuqi's autobiographical story with genuine English lyrics. She expanded her musical spectrum through two tracks. The first is 'Giant,' which contains the message that she rises from pain and proceeds confidently. Then the second is 'Bonnie & Clyde,' which shows the grandeur by adding drumline sound to its Pop Rock genre.
Yuqi revealed her ability to write and compose songs through their fan song 'I'm The Trend. She also participated in (G)I-DLE song 'LOST,' from their 4th mini-album 'I burn.' Then, on the song 'Giant' and in the first track of 'A Page,' she contributed and showed more advanced production skills.
In response to the news of (G)I-DLE Yuqi's new release, K-pop idol colleagues such as Kyulkyung Joo and NCT Lucas also delivered congratulatory and support messages through their social media accounts.
Read More About: ENHYPEN Topped The Oricon April Albums Chart
2021 kpop
,
2021 kpop girl idols
,
2021 kpop news
,
2021 kpop news updates
,
2021 kpop updates
,
2021 updates on kpop
,
g-idle
,
G-IDLE kpop
,
g-idle news
,
g-idle_yuqi
,
KPOP
,
Kpop 2021
,
Kpop artist
,
Kpop artists
,
Kpop idols
,
Kpop news
,
Kpop trend
,
Kpop trending
,
KPop trending news
,
Kpop trending now
,
kpop trending update
,
KPOP2021
,
KPOPIDA
,
KPOPNEWS
,
Kpopstars
,
Trending
,
trending 2021
,
trending kpop
,
Trending Kpop news
,
trending kpop update
,
trending news
,
trending update kpop
,
yuqi_a page