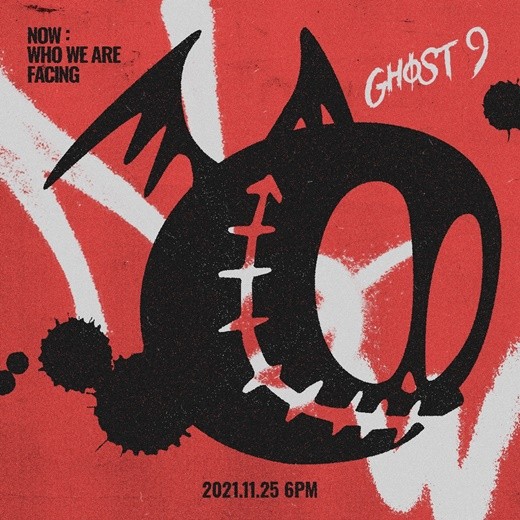 Kpop group Ghost9 will join the comeback battle in November.
On November 9, Ghost9 released a surprise image of 'Coming Soon' through their official social media.
The released image contains the ghost character of Ghost9 along with the words 'NOW' written in lacquer on a red background. The blank space creates a feeling as if blood has fallen, adding a meaningful atmosphere.
Along with this, the album name 'NOW: WHO WE ARE FACING' and the release date of '2021.11.25 6 PM' are present, foreshadowing that Ghost9 will return with the 'NOW' series after five months.
Previously, Ghost9 showed their ability to digest various unconventional concepts through 'NOW: Where We Are, Here' and 'NOW: When We Are In Love.'
Particularly, Kpop group Ghost9's worldview was unfolded in earnest through the 'NOW' series. Then, through their previous title songs 'SEOUL' and 'Up All Night,' they began to solidify their solid position in the music industry by giving off strong charisma, freshness, and excitement.
An official from the agency said, "Ghost9 put a lot of effort into this comeback. They will return with a different 'NOW' series to meet fans' expectations. So, please look forward to it and pay a lot of attention."
Read More About: ITZY Starts Pre-Sale Of 2022 Season's Greetings!
2021 kpop news
,
2021 kpop news updates
,
2021 news kpop
,
ateez_jongho
,
best kpop news site
,
daily kpop news
,
Ghost Nine
,
Ghost9
,
ghost9 kpop
,
ghost9 updates
,
ghost9_up all night
,
Korean celeb news
,
KPOP
,
Kpop artist
,
kpop celebrity news
,
kpop daily news
,
kpop ghost9
,
kpop ghost9 news
,
Kpop idols
,
Kpop latest news
,
Kpop news
,
kpop news update
,
Kpop recent news
,
Kpop trending
,
KPop trending news
,
KPOP2021
,
KPOPIDA
,
KPOPNEWS
,
Kpopnews 2021
,
Kpopnews2021
,
latest kpop news
,
recent kpop news
,
Seunghoon Lee
,
Trending Kpop news
,
trending news