GHOST9 exuded a youthful charm in SBS 'Inkigayo.'
GHOST9 (Dongjun, Junhyung, Shin Lee, Junseong, Kangsung, Prince, Woojin, Taeseung, Jinwoo) released their 4th mini-album 'NOW: When we are in Love' in the SBS music program 'Inkigayo' broadcast on June 27th. That same day, they performed the title song 'Up All Night.'
On this day, GHOST9 caught the eye of the fans with their performance exuding a fresh visual and lovely atmosphere, which reminds the feeling of first love. In addition, the members casual and sport styling added to their charm.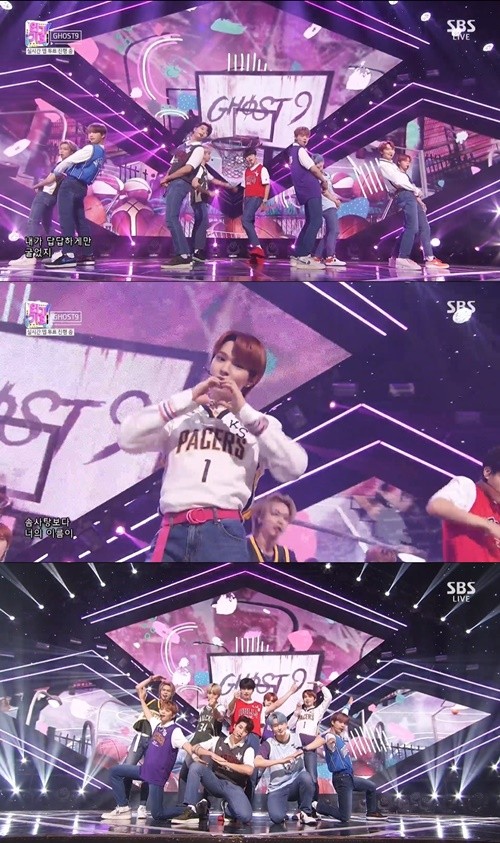 They enhanced the taste of watching the performance of 'Up All Night' by saving each of their overflowing killing parts. They gave pleasant energy with a bright smile, saving the mood of the song 'Up All Night.'
Besides, they boast relaxed performance manners, facial expressions, and gestures.
In fact, GHOST9's 4th mini-album title track 'Up All Night' is a song that contains the freshness and excitement feeling of first love. The cool and refreshing rhythm variation touches the everyday lyrics, evoking sympathy for the love that GHOST9 interpreted.
Particularly, GHOST9, which has shown strong and powerful group dances, is attracting attention for their changed musical style. The members perfectly express fresh emotions through delicate acting and sensual performances through 'Up All Night.'
Read More About: 2PM Comeback Exudes Intense Temptation + Visual Appeal At Its Peak!
2021 kpop
,
2021 kpop news
,
2021 kpop news updates
,
2021 kpop updates
,
2021 news kpop
,
2021 updates on kpop
,
Ghost Nine
,
Ghost9
,
ghost9 kpop
,
ghost9 updates
,
ghost9_up all night
,
KPOP
,
Kpop 2021
,
Kpop artist
,
Kpop artists
,
kpop ghost9
,
kpop ghost9 news
,
Kpop idols
,
Kpop news
,
Kpop SBS
,
kpop show
,
Kpop trend
,
Kpop trending
,
KPop trending news
,
Kpop trending now
,
kpop trending update
,
KPOP2021
,
Kpopall
,
KPOPIDA
,
KPOPNEWS
,
SBS Inkigayo
,
Trending
,
trending 2021
,
trending kpop
,
Trending Kpop news
,
trending kpop update
,
trending news
,
trending update kpop