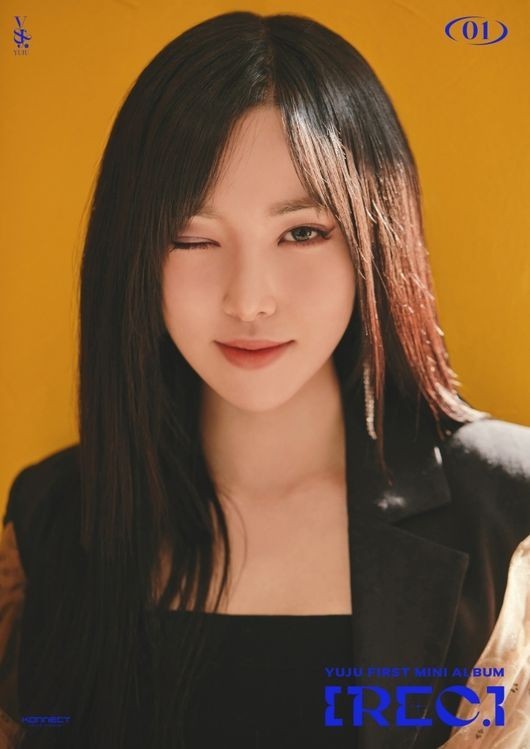 K-pop group GFRIEND member YUJU takes her first steps as a solo artist. YUJU will release her first solo album, 'REC.,' on various music sites at 6 pm on January 18. This is YUJU's first appearance in a year and two months since IZ*ONE activities. Also, this is her first step as a solo artist.
In addition, she works with world-class musicians, and the songs she has been working on steadily over the years will also be presented for the first time in this album. Chancellor, who belongs to KONNECT Entertainment, YUJU's agency, joined in here to enhance the album's perfection.
YUJU showed off her outstanding power of attraction in music, performance, and styling in the teaser contents released earlier. Including the title song 'Play,' she participated in writing and composing all five tracks, exuding her musical capabilities.
By combining various styles with a pop sound, YUJU presents a new charm. Her innate vocal ability shines even more in this album. The performance, emphasizing her charm, appeared soft and elegant. In contrast to the sound, the heavy message runs through the entire album.
It means that she will show the musical capabilities she has accumulated over the years for her first solo album. So, domestic and foreign music experts gather to draw more anticipation as it is the first album from KONNECT Entertainment, which is growing rapidly.
Former K-pop group GFRIEND member YUJU, who is about to release a solo album, said, "Thanks to the support of my fans, I received great strength and finished all the process. I hope you enjoy all the music, performances, and album activities together."
Read More About: fromis_9 Hayoung Song Showed A Cute Heart Pose!
2022 kpop trending
,
2022 kpop updates
,
2022 latest news
,
best kpop news site
,
breaking news kpop
,
daily kpop news
,
Gfriend
,
gfriend kpop
,
gfriend termination of contract
,
gfriend trending news
,
gfriend yerin
,
gfriend Yuju
,
Korean celeb news
,
KPOP
,
kpop 2022
,
KPOP 2022 NEWS
,
Kpop artist
,
Kpop artists
,
kpop celebrity news
,
Kpop chart and news
,
Kpop current news
,
kpop daily news
,
kpop gfriend
,
kpop group winner
,
Kpop idols
,
Kpop latest news
,
Kpop news
,
Kpop news articles
,
Kpop news sites
,
kpop news update
,
Kpop recent news
,
Kpop trending
,
KPop trending news
,
Kpop trending now
,
kpop Yuju
,
KPOPIDA
,
KPOPNEWS
,
singer Yuju
,
Trending Kpop news
,
trending news
,
yerin gfriend
,
Yerin of GFRIEND
,
Yuju