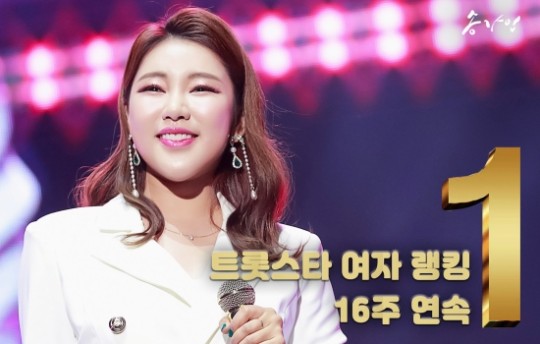 Kpop singer Gain Song maintains the No. 1 spot in the Trot Star rankings for a whopping 16 weeks.
Gain Song took first place with a total of 84,886 votes in the 16th voting for the Star Trot Women's Rankings held from 3:01 pm on November 25 to 3 pm on December 2. As a result, Gain proved her strong popularity as a female trot singer who never missed a first place at the same time as she started in the trot star rankings.
In addition, she took the top spot on the chart for the past four weeks in a row and obtained the privilege of an outdoor billboard produced by the fan club AGAIN. Gain, who is receiving a lot of love and support from fans, will continue her popular solo career in the future.
Kpop singer Gain Song, who does not miss the first place for 16 weeks in a row, is proving her popularity by working in an area that encompasses genres such as music as well as entertainment and advertisements.
Meanwhile, 'Arts Master: The War of Hip-Hop Singers,' starring Gain Song, is Korea's first crossover competition program between Korean traditional music and popular music. It airs every Tuesday at 9 PM on JTBC.
Read More About: BLITZERS Won The 'Focus Award' At 2021 Asia Artist Awards
2021 kpop news
,
2021 kpop news updates
,
2021 news kpop
,
best kpop news site
,
breaking news kpop
,
daily kpop news
,
GAIN SONG
,
Korean celeb news
,
KPOP
,
Kpop 2021
,
Kpop artist
,
Kpop artists
,
kpop celebrity news
,
Kpop chart and news
,
kpop daily news
,
Kpop idols
,
Kpop latest news
,
Kpop news
,
Kpop news articles
,
kpop news update
,
Kpop recent news
,
kpop singer gain song
,
kpop song gain
,
Kpop trend
,
Kpop trending
,
KPop trending news
,
Kpop trending now
,
KPOP2021
,
KPOPIDA
,
KPOPNEWS
,
Kpopnews 2021
,
singer gain song
,
SONG GAIN
,
trending kpop
,
Trending Kpop news
,
trending kpop update
,
trending news
,
trending update kpop