Kpop singer Gain Song ranked first in Star Ranking for the seventh week.
Gain Song took first place with 88,882 votes in the 4th week of September in the Star Trot Female Ranking, held from 3:00 PM on September 23 to 3:00 PM on September 30.
From the first voting on August 12 started, Kpop singer Gain Song surprised everyone by not missing the first place for seven consecutive weeks. Following Gain, Yujin Jeon with 42,227 votes and Hongja with 12,424 votes took second and third place, respectively.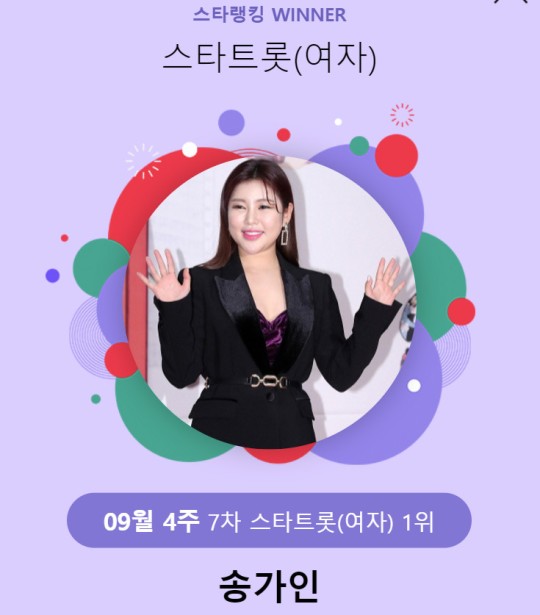 On the other hand, Star Ranking is a voting platform where fans vote for their favorite star to determine the ranking. A variety of privileges are provided to the star according to the voting result ranking. For four consecutive weeks, the star selected as the first place will be displayed on an outdoor billboard advertisement.
Fans can vote for their favorite star on the Star News website. Star Ranking Star trot has switched from a traditional round of voting order to a new voting process.
Read More About: HOT ISSUE Dain Expressed Her Love To Their Fans
best Kpop girl group
,
best kpop news site
,
best kpopstar
,
breaking news kpop
,
daily kpop news
,
Fandom
,
Hip-hop Idol JIN
,
Jin
,
JIN news
,
Korean celeb news
,
Korean singer
,
Korean singer songwriter
,
KPOP
,
Kpop album
,
Kpop beauty routine
,
Kpop boy group
,
kpop celebrity news
,
Kpop chart and news
,
Kpop colllaboration
,
KPOP comeback
,
Kpop current news
,
kpop daily news
,
Kpop fashion
,
Kpop girls group
,
kpop idol JIN
,
Kpop idols
,
Kpop issues
,
Kpop latest news
,
Kpop music chart
,
Kpop news
,
Kpop news articles
,
Kpop news sites
,
kpop news update
,
Kpop recent news
,
Kpop skin care routine
,
Kpop skincare routine
,
KPop trending news
,
KPOPNEWS
,
Singer JIN
,
South Korean singer songwriter
,
the best kpop girl group
,
the best kpop girl group of 2021
,
the best kpop group of 2021
,
the top kpop group
,
top kpop boy group
,
top kpop girl group