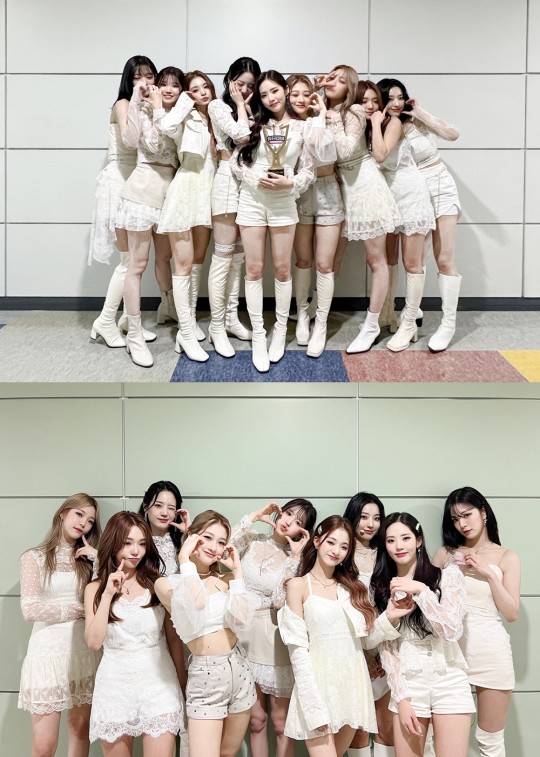 The Kpop group fromis_9 achieved two trophies on music shows with their new song. fromis_9 (Saerom, Hayoung, Gyuri, Jiwon, Jisun, Seoyeon, Chaeyoung, Nagyung, Jiheon) appeared on MBC M's 'Show! Champion,' and performed their 4th mini-album 'Midnight Guest' title song 'DM.'
That day, they took 1st place. As a result, fromis_9 rose to the top on SBS MTV's 'The Show' on January 25 and again took the 1st place trophy on 'Show Champion,' winning two music shows.
fromis_9 said, "We sincerely thank the Flovers (fandom) who made it possible for us to win 1st place once again with the new song 'DM."
fromis_9 performed the title song 'DM' on that day's broadcast. They further maximized the charm of 9 members through a splendid performance blended with addictive music. In addition to the delicate facial expressions that we can fully feel the lovely sensibility of the members, they overwhelmed the attention with colorful stage composition and directing.
Meanwhile, Kpop group fromis_9 broke its own record by exceeding 100,000 copies sold in the first week based on Hanteo Chart with 'Midnight Guest.'
They show off their strong presence by taking first place on the Hanteo Chart's real-time, daily, and weekly album charts and on the Gaon Chart retail store album charts. The title song 'DM' also topped the real-time and daily charts of Bugs, a domestic music site. Also, it took first place on the real-time charts of Rakuten Music in Japan. fromis_9, who has been on a steep rise in music and album sales, will appear on Mnet's 'M Countdown' on January 27.
Read More About: SE SO NEON Goes On Their First North American Tour Starting In March
best Kpop girl group
,
best kpop news site
,
best kpopstar
,
breaking news kpop
,
daily kpop news
,
Fandom
,
FROMIS_9
,
Fromis_9 comeback
,
Fromis_9 news
,
girl group Fromis_9
,
Hip-hop Idol JIN
,
Jin
,
JIN news
,
Korean celeb news
,
Korean singer
,
Korean singer songwriter
,
KPOP
,
Kpop album
,
Kpop beauty routine
,
Kpop boy group
,
kpop celebrity news
,
Kpop chart and news
,
Kpop colllaboration
,
KPOP comeback
,
Kpop current news
,
kpop daily news
,
Kpop fashion
,
Kpop girls group
,
kpop group Fromis_9
,
kpop idol JIN
,
Kpop idols
,
Kpop issues
,
Kpop latest news
,
Kpop music chart
,
Kpop news
,
Kpop news articles
,
Kpop news sites
,
kpop news update
,
Kpop recent news
,
Kpop skin care routine
,
Kpop skincare routine
,
KPop trending news
,
KPOPNEWS
,
Mnet
,
Mnet program
,
MNET SHOW
,
Mnet TMI News
,
Singer JIN
,
South Korean singer songwriter
,
the best kpop girl group
,
the best kpop girl group of 2021
,
the best kpop group of 2021
,
the top kpop group
,
TMI NEWS
,
top kpop boy group
,
top kpop girl group