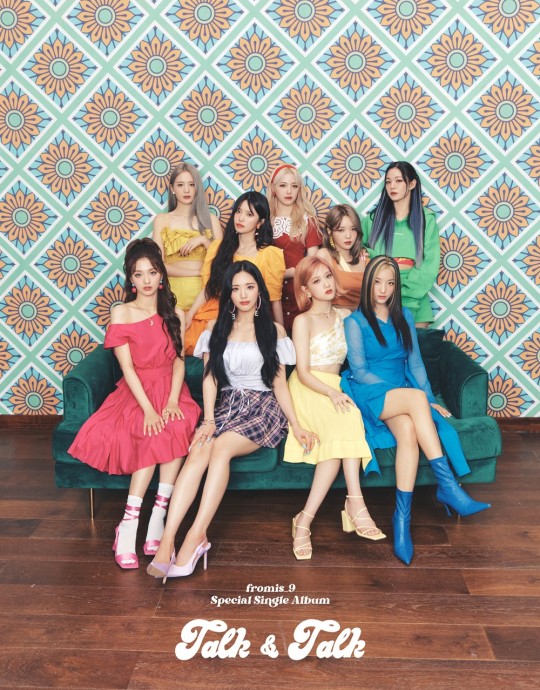 Kpop group fromis_9 (Saerom, Hayoung, Gyuri, Jiwon, Jisun, Seoyeon, Chaeyoung, Nagyung, Jiheon) shared their thoughts about their special single album 'Talk & Talk' the day before their comeback.
fromis_9 will deliver their own 'talk & talk' refreshing energy through their special single album 'Talk & Talk,' which they will release on September 1st. They will be active as 'healing mates' that fans can feel good just by looking at them.
Particularly, the special single album 'Talk & Talk' garnered a hot response from global fans. It is a new album released by fromis_9 after about 4 months since their last album release. Also, it is their first comeback after transferring to Pledis Entertainment.
#. A new spin-off story
'Talk & Talk' is a dance-pop song with an addictive chorus that harmonizes with a retro-inspired melody on a track featuring a synth sound. The song tactfully resolved the fresh excitement of wanting to keep talking on the phone all night long by comparing them to 'any word party' or 'word chain.'
'Talk & Talk' is a spin-off of the previous title song 'WE GO.'
It presents a different narrative by reinterpreting a scene from the music video. Not only is it fun to discover the connection between the two songs, but the sweet whispers with fromis_9 will give you a heart-pounding thrill.
In addition, member Jiheon introduced, "The new song 'Talk & Talk' is a song that anyone can enjoy comfortably.'
Then, member Jisun said, "It is a song that is easy to listen to. The choreography gives synergy, so you can listen to it in a little more variety and points that fit its theme. I hope you will find it and listen to it."
#. Addictive music and point choreography
fromis_9 delivered a happy sensation to the viewers with a stage filled with bright energy in each of their albums. The nine members showed off their unique charms with point choreography that showed synergy with addictive music as well as digestibility of a wide range of concepts.
Accordingly, fromis_9's refreshing fall song 'Talk & Talk' is drawing a lot of attention. Here, member Hayoung picked 'point choreography' as an expectation point for 'Talk & Talk.'
Hayoung said, "There is a choreography that calls during the point choreography. To give you a little hint, I talked about the choreography with choreographer Youngjun Choi during practice. I was very proud that they include my idea in it. I am very much looking forward to this performance."
She revealed a surprising behind-the-scenes story, amplifying the curiosity of many people waiting for fromis_9's comeback.
Meanwhile, Kpop group fromis_9 will release a special single album 'Talk & Talk' at 6 pm on September 1.
Read More About: ICHILLIN Sohee & Joonie's Individual Concept Photos Released!
2021 kpop news
,
2021 kpop updates
,
FROMIS_9
,
fromis_9 GROUP
,
fromis_9 kpop
,
Fromis_9 new agency
,
KPOP
,
Kpop 2021
,
Kpop artist
,
Kpop artists
,
kpop fromis_9
,
kpop Fromis_9 news
,
kpop group Fromis_9
,
Kpop idols
,
Kpop news
,
Kpop trend
,
Kpop trending
,
KPop trending news
,
Kpop trending now
,
kpop trending update
,
KPOP2021
,
Kpopall
,
KPOPIDA
,
KPOPNEWS
,
trending 2021
,
trending kpop
,
Trending Kpop news
,
trending kpop update
,
trending news
,
trending update kpop