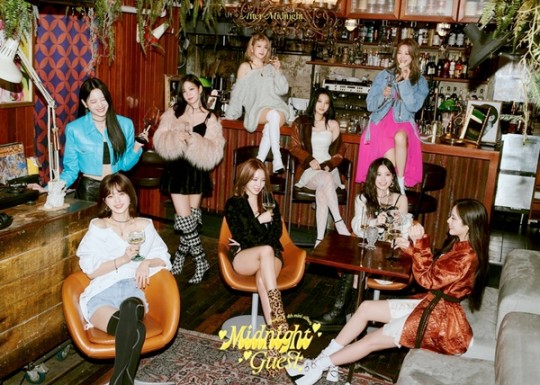 The K-pop group fromis_9 set a new record in album sales with their new album, Midnight Guest.'
On January 18, according to Hanteo Chart, a site that counts album sales, fromis_9's 4th mini-album, 'Midnight Guest,' released the day before, recorded the sales of 49,712 copies on the first day of release. This is the highest record on the first day of release of fromis_9. The number greatly exceeds the Initial first-week sales of their previous albums.
Remarkably, fromis_9 predicted a career-high by exceeding the Initial first-week sales (37,000 copies) of their second single album, '9 WAY TICKET,' released in May of last year, just one day after their comeback with 'Midnight Guest.'
As the pre-order for this album was more than 120,000 copies, fromis_9's future album sales will surely increase even more.
The album showed fromis_9's strong record power by ranking first in the Hanteo chart's real-time album chart on January 18. Also, they achieved remarkable results on the music charts.
fromis_9 took the top spot on Bugs real-time chart with the title song 'DM' of 'Midnight Guest.'
Also, they succeeded in the so-called 'line up' as all songs in the album dominated the 1st-5th places.
'DM' topped the real-time chart of Rakuten Music in Japan.
The 4th mini-album 'Midnight Guest' is an album that fromis_9, who escaped early in the morning, surprises those having a free night and gives them excitement.
The title song, 'DM,' is where you can feel the lovely emotions of the nine members. Also, it is a pop genre song with a faint chord progression and a funky bass line.
Immediately after its release, the song's music video receives high attention from global fans. It ranked 6th in the world's most viewed videos for the past 24 hours.
K-pop group fromis_9 will appear on MBC M's 'Show Champion' and will have their first comeback performance with the title song 'DM.'
Read More About: Sandara Park Boasted The Food She Received From Fans
2021 kpop news
,
2021 kpop news updates
,
2022 kpop trending
,
2022 kpop updates
,
2022 latest news
,
best kpop news site
,
breaking news kpop
,
daily kpop news
,
FROMIS_9
,
Fromis_9 comeback
,
fromis_9 GROUP
,
fromis_9 kpop
,
Fromis_9 new agency
,
Fromis_9 news
,
girl group Fromis_9
,
Korean celeb news
,
KPOP
,
kpop 2022
,
KPOP 2022 NEWS
,
Kpop artist
,
Kpop artists
,
kpop celebrity news
,
Kpop chart and news
,
Kpop current news
,
kpop daily news
,
kpop fromis_9
,
kpop Fromis_9 news
,
kpop group Fromis_9
,
Kpop idols
,
Kpop latest news
,
Kpop news
,
Kpop news articles
,
Kpop news sites
,
kpop news update
,
Kpop recent news
,
Kpop trend
,
Kpop trending
,
KPop trending news
,
Kpop trending now
,
kpop trending update
,
KPOPIDA
,
KPOPNEWS
,
Trending
,
trending 2021
,
trending kpop
,
Trending Kpop news
,
trending kpop update
,
trending news
,
trending update kpop