The group EXO is back with a special album.
EXO released its special album 'Don't Fight the Feeling' at 6 pm on June 7th and a music video for the title song of the same name.

EXO members Xiumin, Lay, Baekhyun, Chanyeol, D.O, Kai, Sehun, prepared this album. Suho and Chen did not participate because they briefly left the fans for their mandatory military service. So, the faces of Xiumin and D.O, who returned from military service, and Lay, who participated in activities after a long time, adds to the excitement of fans.
'Don't Fight the Feeling,' which boosts strong energy, is reminiscent of the title track 'Power,' the fourth full-length repackage album of EXO. Starting with a heavy base, the cheerful rhythm and synthesizer that sped up and down can constantly make your body shake with the sound.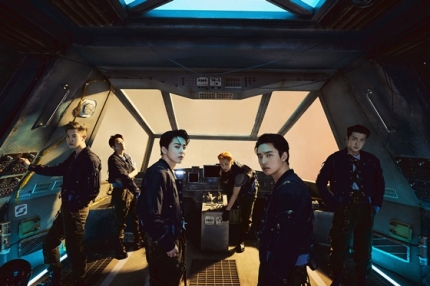 You have to tackle at least
I'm a little different
Trust me on that one at least, Yeah 
Get drunk on your own style,
What's wrong with that
You can do anything, yeah 
In these lyrics, you can feel the charisma of youth. It delivers the message to trust in your beliefs and run freely forward in numerous moments of choice in life.
Don't fight the feeling
Follow your instincts, Babe
Don't fight the feeling
Don't even stop yourself
Yeah Don't fight the feeling Yeah
Don't fight the feeling Yeah
The chorus, which appears repeatedly, is so addictive that it stays in your head even once you hear it.
Besides, there's a total of five songs included in the album. Aside from the title track 'Don't Fight The Feeling, EXO's new album contains the songs 'Paradise,' with funky rhythm, 'No Matter' with retro sensibilities, 'Runaway' with impressive vocals harmonies, and 'Just as Usual,' a warm healing song.
In fact, EXO's album is released in 1 year and 6 months since its 6th full-length album, 'OBSESSION,' released in November 2019. Although there are no album activities due to some members' military enlistment, the pre-order volume exceeded 1.22 million as of June 6th. So, fans' responses are hot even before the album's release. Attention is focusing on what kind of footsteps EXO will leave in the music industry with this album.
Read More About: INFINITE Sungyeol Lee Signs An Exclusive Contract With Management Leesang
2021 kpop news
,
2021 kpop updates
,
Baekhyun Exo
,
EXO
,
Exo album
,
Exo Comeback
,
Exo news
,
exo updates
,
EXO_Chanyeol
,
EXO_Kai
,
EXO_NEWS
,
exo_sehun
,
EXO_Xiumin
,
EXO's Baekhyun
,
Kai of EXO
,
KPOP
,
Kpop 2021
,
Kpop artist
,
Kpop artists
,
Kpop idols
,
Kpop news
,
Kpop trend
,
Kpop trending
,
KPop trending news
,
Kpop trending now
,
Kpop_EXO
,
KPOP2021
,
Kpopall
,
KPOPIDA
,
KPOPNEWS
,
trending kpop
,
Trending Kpop news
,
trending kpop update
,
trending update kpop