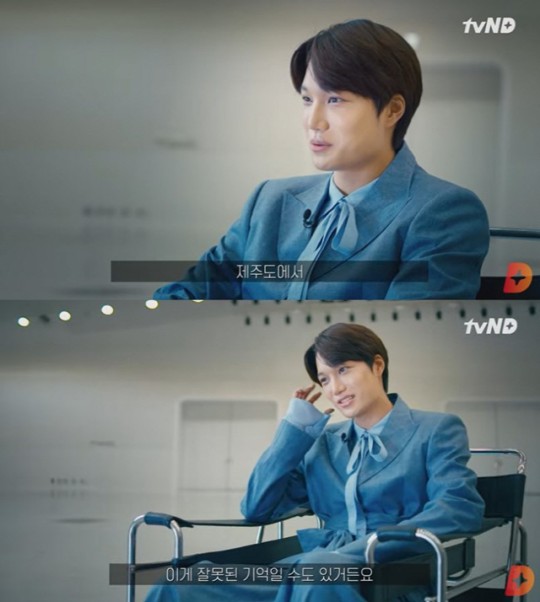 Kpop group EXO member Kai confessed his dark history seven years ago and made loud remarks that it was a bad memory, causing laughter.
Through a video titled '10-Year Idol Kai's Runway Dark History (ft. Seoul Fashion Week),' released on the YouTube channel tvN D STUDIO at 8 pm on October 4, Kai expressed his feelings about being an ambassador for 2022 S/S Seoul Fashion Week and his usual thoughts on fashion.
Kai said, "I remember collaborating with models at our concert. This could be an incorrect memory. In Jeju, that's a really bad memory for me. I regret talking about this. It's a sentimental memory from when I was younger."
Then, Kai remembered being on the runway seven years ago as an ugly past. But, he debuted as a singer and has been in his 10th year. He is a fashionista representing the entertainment industry. Accordingly, he was an ambassador for an overseas luxury brand and also an ambassador for the 2022 S/S Seoul Fashion Week.
EXO Kai said, "I used clothes to express myself. I used to only think about how to sing to how to dance. But, now that I have been a singer for ten years, I came to think more about how to express myself as an artist."
In other words, he emphasized that fashion is an important part of him.
In addition, through this interview, Kai solved fans' curiosity with honest talks that he hadn't shared before. It includes fashion rumors related to him and his inner thoughts as an ambassador for Seoul Fashion Week.
Meanwhile, Kpop group EXO member Kai will be active as an ambassador for '2022 S/S Seoul Fashion Week,' which will be held non-face-to-face digitally from October 7 to 15. tvN D STUDIO will release an interview with the singer DPR LIVE on October 7 at 8:00 pm.
Read More About: GOT7 Youngjae Debuts As A Solo Artist With 'COLORS From Ars'
best Kpop girl group
,
best kpop news site
,
best kpopstar
,
breaking news kpop
,
CHANYEOL
,
D.O
,
daily kpop news
,
EXO
,
EXO Albums
,
EXO members
,
Exo news
,
EXO songs
,
Fandom
,
Kai
,
Korean celeb news
,
Korean singer
,
Korean singer songwriter
,
KPOP
,
Kpop album
,
Kpop beauty routine
,
Kpop boy group
,
kpop celebrity news
,
Kpop chart and news
,
Kpop colllaboration
,
KPOP comeback
,
Kpop current news
,
kpop daily news
,
kpop exo
,
Kpop fashion
,
Kpop girls group
,
Kpop group EXO
,
Kpop idols
,
Kpop issues
,
Kpop latest news
,
Kpop music chart
,
Kpop news
,
Kpop news articles
,
Kpop news sites
,
kpop news update
,
Kpop recent news
,
Kpop skin care routine
,
Kpop skincare routine
,
KPop trending news
,
KPOPNEWS
,
Kyungsoo Do
,
South Korean singer songwriter
,
the best kpop girl group
,
the best kpop girl group of 2021
,
the best kpop group of 2021
,
the top kpop group
,
top kpop boy group
,
top kpop girl group