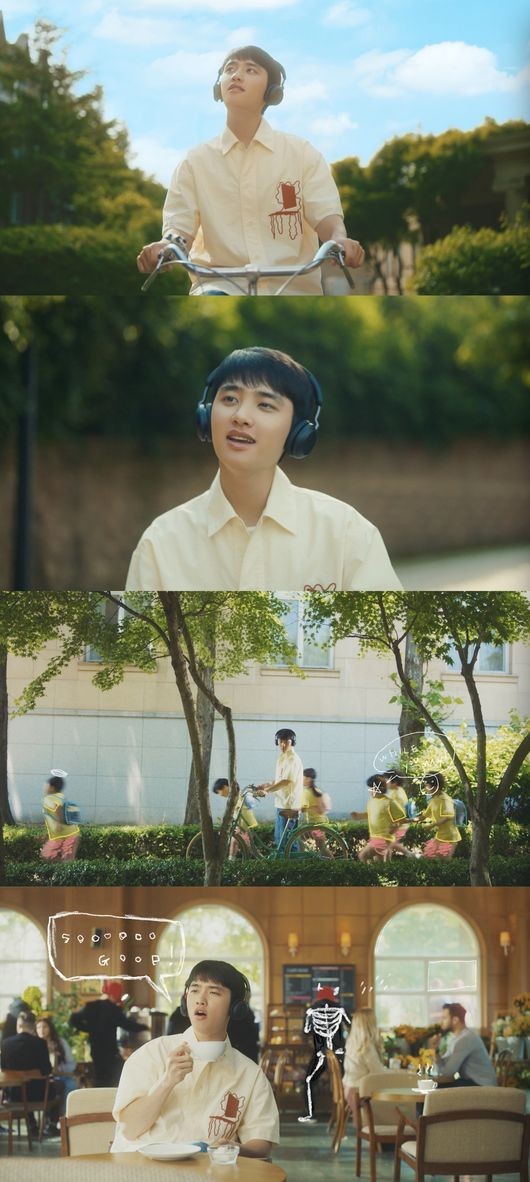 D.O of group EXO has transformed into a solo artist after 9 years of debut.
He released the music video for the title song 'Rose' and all the songs in his first solo album 'Empathy' through various music sites at 6 pm on July 26th.
D.O is releasing his first solo album since his debut as EXO in 2012. He is expected to captivate global fans with an album that contains the deep emotions of D.O.
D.O's solo album 'Empathy' consists of a total of 8 songs, including 6 new songs and a bonus track. So, music fans can hear D.O's sweet tone and warm sensibility.
D.O.'s title song, 'Rose,' is an acoustic folk song with a light guitar rhythm. D.O wrote the lyrics himself. It contains his heart and courage to confess to the other person. So, the song features D.O's sweet voice.
The music video released together shows D.O riding a bicycle all day while wearing headphones. Using the rotoscoping technique that synthesizes live-action and illustrations according to the bright and exciting atmosphere of the song, it attracted attention by adding a fairy tale and colorful charm.
In addition, this album includes the healing song 'I'm Fine.' It is a healing song that expresses the desire to say hello to others by D.O.'s participation in the lyrics.
Also, the romantic love song 'I'm Gonna Love You' is a popular romantic love song with Wonstein's participation.
'It's Love' is a Latin-based acoustic pop song containing sincere thoughts about love.
'My Love' is a song with lyrics that describe all the scenery you see as love as soon as you walk with your lover.
The ballad song, 'Dad,' contains feelings and wishes for the father after becoming an adult, which gives listeners empathy.
Expectations are high as to what kind of story D.O, who is active as a singer as well as an actor, showing his charms, will show as a solo artist.
Read More About: AKMU x IU, Combines Their Unique Harmony Through 'Fall (Nakka)'
2021 kpop
,
2021 kpop news
,
2021 kpop news updates
,
2021 kpop updates
,
2021 news kpop
,
2021 updates on kpop
,
D.O_EMPATHY
,
d.o_rose
,
Do Kyungsoo
,
Do Kyungsoo_Empathy
,
EXO
,
Exo Comeback
,
EXO D.O
,
Exo news
,
exo updates
,
EXO_NEWS
,
KPOP
,
Kpop artist
,
Kpop artists
,
Kpop news
,
Kpop trend
,
Kpop trending
,
KPop trending news
,
Kpop trending now
,
kpop trending update
,
Kpop_EXO
,
KPOP2021
,
KPOPIDA
,
KPOPNEWS
,
Trending
,
trending 2021
,
trending kpop
,
Trending Kpop news
,
trending kpop update
,
trending news
,
trending update kpop