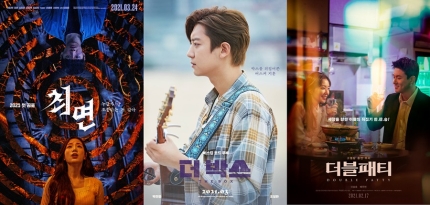 Exo Chanyeol, Irene, and Johyun dominated the movie scenes.
Recently, idol stars that were shining on the stage challenged themselves on the screen. They dominated the movie releases, and their activities attracted attention.
On February 17th, Red Velvet's Irene starred in 'Double Patty' (Director Seung-Hwan Baek). It is a story of a wrestling prospect Woo-ram (Seungho Shin), who fell into a slump. Also, it features an anchor wannabe Joohyun Bae (Irene), who had enough of the hard reality. They share a warm meal of rice and cheering on each other's dreams.
In fact, 'Double Patty' is Irene's screen debut. It is the first film to put her real name Joohyun Bae, before taking a full-fledged acting career. As an anchor wannabe in this work, she took lessons from the announcer herself. She worked hard to show a different appearance from onstage to vocalization and tone. As a rookie actress, she was in the same situation as a newcomer character in society. She started acting.
On the other hand, her junior Chanyeol also transformed from group EXO into actor Park Chanyeol. Chanyeol plays the role of Jihoon in the movie 'The Box' (director Jungwoong Yang). They released the movie on March 24th. He plays an active part in his first screen lead role.
'The Box' is a miracle busking road movie. It features Jihoon (Chanyeol Park), who can sing only with a box, and Minsu (Dal-hwan Cho), a producer, where success is the most important. Chanyeol took the role of playing guitar and singing at a high level by utilizing his main job as a singer. Fans wondered what kind of activities EXO Chanyeol will show through 'The Box.'
Finally, Johyun appeared in the movie, 'Hypnosis,' as one of the leading roles. The movie is released on the same day as 'The Box.'
'Hypnosis' is a horror thriller depicting the afterimages of nightmares. Professor Choi (Byeongho Son) and his friends will start the story, who had a hypnosis experience.
Johyun played the role of Hyunjeong, an idol singer who is living in college. She played a character similar to her own situation and performed highly immersive. Also, she prepares a modern dance scene for the character of Hyunjeong. She uses her special skills to digest an unfamiliar modern dance performance.
Also, AOA's Hyejeong surprisingly appears as one of the National Intelligence Service in 'Mission Possible." The movie release was a success on February 17th. Although it is a small role, she wins it through a direct audition.
Idols performing on stage showed their activities on the screen beyond the drama. As a result, fans highly anticipate what kind of performance will Johyun do for 'hypnosis' and Chanyeol's for 'The Box.'
Meanwhile, on March 24th, 'The Box' and 'Hypnosis' premiered in South Korea.
Read More About: Kpop Idols Expressed Their Charm On Instagram