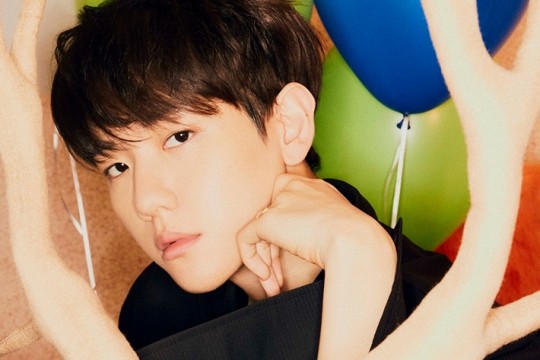 Kpop group EXO member Baekhyun decided to delete all his YouTube content uploaded after his enlistment.
SM Entertainment posted a notice on Baekhyun's personal YouTube channel 'KoongTube' on November 18. The notice says, "We wish to inform you that KoongTube's contents will be removed until his discharge from the military."
SM Entertainment added, "We have been releasing one video per month all this while. It is our way of repaying the fans a little bit, for the love they gave to Baekhyun. We filmed these videos before his enlistment."
"To prevent unpredictable misunderstandings different from our original intent, we have decided to delete all the videos uploaded after his enlistment," SM said.
After debuting as a member of the Kpop group EXO in 2012, Baekhyun received much love for various activities such as the combined team SuperM and solo projects. He entered the military training center in May of this year. Baekhyun received basic military training and is currently serving as a public service worker.
Read More About: CRAVITY Serim, Hyeongjun, & Taeyoung Released BTS's 'I Need You' Dance Cover Video!
best Kpop girl group
,
best kpop news site
,
best kpopstar
,
breaking news kpop
,
CHANYEOL
,
D.O
,
daily kpop news
,
EXO
,
EXO Albums
,
EXO members
,
Exo news
,
EXO songs
,
Fandom
,
Kai
,
Korean celeb news
,
Korean singer
,
Korean singer songwriter
,
KPOP
,
Kpop album
,
Kpop beauty routine
,
Kpop boy group
,
kpop celebrity news
,
Kpop chart and news
,
Kpop colllaboration
,
KPOP comeback
,
Kpop current news
,
kpop daily news
,
kpop exo
,
Kpop fashion
,
Kpop girls group
,
Kpop group EXO
,
Kpop idols
,
Kpop issues
,
Kpop latest news
,
Kpop music chart
,
Kpop news
,
Kpop news articles
,
Kpop news sites
,
kpop news update
,
Kpop recent news
,
Kpop skin care routine
,
Kpop skincare routine
,
KPop trending news
,
KPOPNEWS
,
Kyungsoo Do
,
South Korean singer songwriter
,
the best kpop girl group
,
the best kpop girl group of 2021
,
the best kpop group of 2021
,
the top kpop group
,
top kpop boy group
,
top kpop girl group