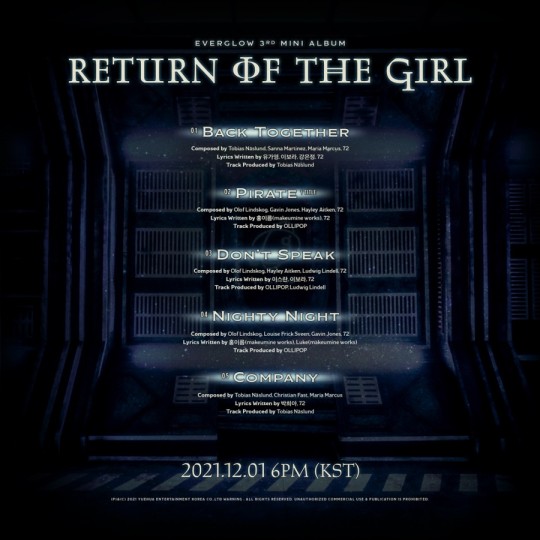 Kpop group EVERGLOW returns as a pirate. EVERGLOW (E:U, Sihyeon, Mia, Onda, Aisha, and Yiren) released the tracklist image of their third mini-album 'Return of the Girl' on their official social media at midnight on November 22.
According to the tracklist, the album includes a total of five tracks. It starts with the first track, 'Back Together,' 'Pirate,' 'Don't Speak,' 'Nighty Night,' and 'Company.'
Among tracks, the title song is 'Pirate.'
It is a song about EVERGLOW's aspirations to become pirates and lead the world in their own style. Hitmakers Ollipop, Hayley Aitken, and Gavin Jones, who have consistently been with EVERGLOW, and producer 72, joined forces to show a new side of the members in time for the metaverse era.
'Return of the Girl' has an unrivaled worldview story in various musical spectra shown by EVERGLOW so far. They are not afraid of repeated changes and leap into a new world. They will begin a new journey with an ambition to sail with anchors.
Particularly, EVERGLOW has been building its own style through transformation. The members raise many fans' curiosity as they signal to release an album that resembles their appearance.
Kpop group EVERGLOW will release their third mini-album 'Return of the Girl' on various music sites at 6 pm on December 1.
Read More About: Gain Song Is So Perfect Wearing A Hot Pink Dress!
2021 kpop news
,
2021 kpop news updates
,
2021 news kpop
,
best kpop news site
,
BTS trending news
,
daily kpop news
,
everglow
,
EVERGLOW First solo online concert
,
everglow girl group
,
everglow kpop
,
EVERGLOW kpop news
,
everglow news
,
everglow_last melody
,
EVERGLOW_The First
,
global kpopstar
,
Korean celeb news
,
KPOP
,
Kpop 2021
,
Kpop artist
,
Kpop artists
,
kpop celebrity news
,
kpop daily news
,
Kpop global
,
Kpop idols
,
Kpop latest news
,
Kpop news
,
Kpop news articles
,
kpop news update
,
Kpop recent news
,
Kpop trend
,
Kpop trending
,
KPop trending news
,
Kpop trending now
,
kpop trending update
,
KPOP2021
,
KPOPIDA
,
KPOPNEWS
,
Kpopnews 2021
,
latest kpop news
,
recent kpop news
,
Trending
,
trending 2021
,
trending kpop
,
Trending Kpop news
,
trending kpop update
,
trending news
,
trending update kpop